If you've been blogging for a while now without seeing the results you want, it may seem like a waste of time. You might even have doubts that blogging is essential to running a bed and breakfast. Maybe you should just give it up?
The fact of the matter is this: When done correctly, blogging will help drive traffic to your website, which will land you more reservations from guests. In this article, you'll find a collection of strategic topic ideas that will give your blog a permanent place in your marketing plan.
---
Attract More Guests to Your B&B With An Inbound Marketing Approach
Download our free Inbound Innkeeper Marketing Guide!

---
Why Should Innkeepers Blog?
A well-executed blog can bring your online presence to the next level, helping you rank higher in organic search results.
This kind of content marketing draws your target audience to you based on your ability to answer the questions that they are asking. It is a way to spread awareness, build trust, and encourage people to reach out to you about your services. How? Simply by understanding the kinds of searches your guests are doing and then by using those insights to create content that they need and want to consume.
Some of the benefits of blogging for bed and breakfasts include:
Increased traffic
Establishing your personality and brand
Building trust and loyalty
Attracting qualified leads (who will ultimately become guests)
and reducing marketing costs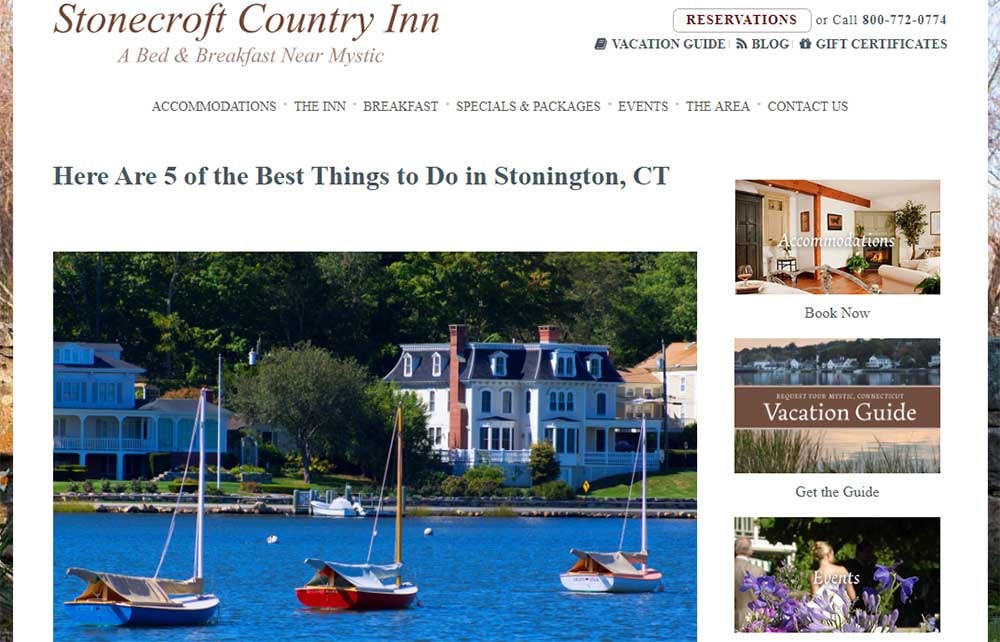 The Stonecroft Country Inn is a great example of a bed and breakfast blog. They often blog about 4 essential topics: things to do in the area, local events, the inn, and food and drink.
Need some helpful resources to learn more about the "inbound approach" to marketing for the tourism industry? Check out our guide on the benefits of blogging for your bed and breakfast business.
25 Topic Ideas For Your Bed and Breakfast Blog
In order to establish a successful blog, you will need to choose the right topics to write about.
Without doing the proper research and planning, it's easy to waste time and energy writing about obscure topics that won't generate traffic or leads. Below, we list some popular ideas for blog posts that will appeal to your ideal customers and attract potential guests. Just tailor the sample titles to fit your needs and get started!
1. Things to do in your area
Before you begin writing, think about who your typical guest is. What are they searching for? It's very likely that your potential guests will do some research on the location they wish to visit before they settle on a place to stay.
To help them make their decision, write some blog posts on the different things to do at your destination. This could include anything from things to do at your venue to things to do around your venue to regional activities.
By answering travelers' questions, you'll gain more qualified traffic to your website, which can then be converted into bookings. Be sure to use keywords that your target audience is searching for in the title, body, and meta description so that it can be easily found.
Here is a list of possible titles you can consider:
Best Places For Family Fun in [location]
# Date Ideas For a Romantic Getaway in [location]
# Hiking Trails in [location]
Must See Museums Near [location]
Your Guide to Shopping in [location]
An Itinerary for a Romantic Getaway in [location]
Things To Do in [location] in the Winter
Don't be afraid to highlight individual attractions in your area if you have reason to believe that people are searching for them. In fact, including links to other websites can increase your page's authority and encourage other businesses to link back to your website as well.
2. Local events
Writing about local events is another great way to attract travelers to your website and keep past guests up to date on all the reasons that they should come back. It can also be helpful to boost interest in your location during an off-season, especially if an exciting event is happening nearby.
It's important to give value to your viewers with every blog post, so try to provide helpful information about upcoming special occasions and refrain from posting reviews of past events. Here are some ideas:
# Festivals to Enjoy This Summer in [location]
A Night at the Theatre: Shows Coming to [location]
Don't Miss These Events in [location] This Holiday Season
Experience [location] Like a Local With These Upcoming Events
Upcoming Events in the [location] Area
And don't just limit yourself to blog posts. If you find that your potential guests would prefer to consume information about events in the form of an events calendar (or something similar), it might just make sense to invest the resources to create one.
3. About the inn
Travelers often want to know exactly what a bed and breakfast is like before they decide to stay there. By writing about your property, staff, and accommodations, you can help them get a feel for what to expect when visiting.
Most importantly, blog posts about the inn can create a personality for your business, which is helpful both in attracting new customers and maintaining relationships with returning customers. With that in mind, when you're writing your blog posts and web content, don't be afraid to write the way that you would speak. Really let your personality shine through in your content; after all, that's probably what most of your guests remember and love the most about staying with you!
Some ideas include:
Meet The Innkeeper at [B&B Name]
Summer Specials and Packages at [B&B Name]
Recipe: [B&B Name]'s Delicious Homemade Cookies
What Past Guests Have to Say About [B&B Name]
What to Bring When Visiting [B&B Name/location]
Frequently Asked Questions About [B&B Name]
[B&B Name] in the News
4. Food and drink
These days, many people center their travels around one very important topic: Food and drink. Even if this isn't the case, everyone enjoys a good meal!
Let your guests know where the best places for all types of dining experiences are in your area, whether that includes at your establishment or the surrounding area. Don't forget to include things like wineries, breweries, or other special locations, too, which often make for great excursions and day trips.
Here's a list of examples:
The Best Places to Find Authentic Italian Food in [location]
Take a Sip And Relax: A Night at [Vineyard]
[Restaurant]: Dining Out in [location]
# Must-Try Places to Eat in [location]
Top Breweries in [location]
[location]'s Most Unique Dining Experiences
Get Started With Your Innkeeper Blog!
The goal for your blog should be to answer the questions that your potential customers might have (and yes, that will involve some research!) in order to get them on your website, earn their trust, and ultimately convince them to stay at your bed and breakfast.
Think of your blog as a tour guide for your destination; once you convince people why they should stay in your location, they will be more likely to want information on your bed and breakfast. Now that you have a list of topic ideas, adjust them for your own needs and see how strategically planning your content can improve the overall success of your business.
For more inspiration, check out the blogs of other successful bed and breakfasts to get a feel for what works best.