You may have heard the term "inbound marketing" lately, but what does it mean and how can innkeepers use it to market bed and breakfasts?
Booking websites like TripAdvisor, Airbnb, and the like have made it more difficult for bed and breakfasts to stand out from the competition. Even worse, they charge a high percentage of each booking and even higher fees to be featured on their websites, cutting into your profits as an innkeeper. You may think that you need to use such booking sites in order to keep up with the competition, but there are other ways that you can boost your occupancy rates without wasting your marketing budget on expensive fees and sponsorships.
---
Attract More Guests to Your B&B With An Inbound Marketing Approach
Download our free Inbound Innkeeper Marketing Guide!

---
Inbound marketing is a marketing strategy that focuses on drawing customers to your business by using informational content. Instead of pushing out advertising trying to get people to buy from you, you are creating information that they want, in order to attract them to your website.
The benefit of this approach is that your content will reach people who are searching for it; therefore, those who already have an interest in your product and are more likely to become customers. In addition, content creation is a great way to take marketing back into your own hands with little to no expense. A key element of inbound marketing is blogging.
5 Ways Blogging Can Increase Your Bed and Breakfast's Occupancy Rates
When done correctly, blogging is a powerful tool that bed and breakfasts can use as a means of increasing occupancy rates. Before you get to writing, you should first know why blogging is so important and what goes into a successful blog.
The purpose of this process is to have your website placed in the top search engine results for valuable keywords that your potential customers are searching for. To do this, you will have to do some research to find out what exactly people are searching for and include these keywords in the titles of your blog posts. This does require some basic knowledge of search engine optimization (or SEO).
By establishing a well-executed blog for your Bed and Breakfast you can:
1. Increase traffic
A successful blog will increase the authority of your website helping it rank in the top of search engine results pages, making it much easier for potential customers to find your website.
2. Establish personality
An innkeeper blog is a great way to infuse your website with the personality of your bed and breakfast. Set the tone for your potential guests by using your writing style to convey the standout characteristics of your location and make them feel welcome before they even arrive.
3. Build trust and loyalty
Blogging is a way for guests to stay up to date with everything happening in the local area. Building these relationships with customers can establish both trust and loyalty, increasing the number of repeat guests that visit your bed and breakfast.
4. Attract qualified leads
Strategically planning your blog content to appeal to your ideal customer will help you to attract more qualified leads than traditional marketing methods. Since these leads already have expressed an interest in the service you provide by searching for a related topic, they are more likely to become customers.
5. Reduce marketing costs
One of the most popular reasons for using an innkeeper blog as a method of marketing your bed and breakfast is the low cost of doing so. Aside from the cost of hosting your website and the time it takes to create content, blogging is virtually free. The potential that high-quality content has to increase conversion rates has the ability to result in a worthwhile return on investment.
Creating Your Innkeeper Blog
Now that you know why blogging is critical for your bed and breakfast, let's explore how you should go about starting one or revamping your existing blog. The first step in this process is figuring out exactly what you should be writing about. To do this, start by doing keyword research as mentioned earlier to determine what people are looking for.
Keep in mind, your blog doesn't need to be solely focused on the bed and breakfast itself. For example, it is highly likely that people will be searching for things to do in your area. To take advantage of this, you can write about popular restaurants, activities, or even the history of your area. For example, this post by Stonecroft Country Inn near Mystic, CT highlights things to do in the surrounding area: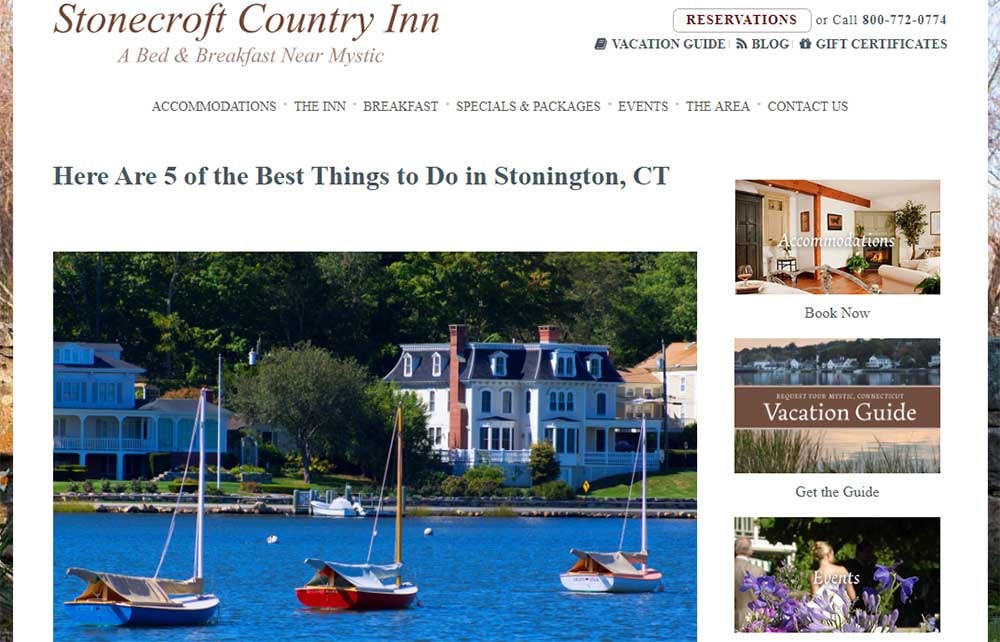 Be sure to mention the keyword for your topic in the title and the body of your blog post so that search engines can recognize it and boost your ranking for relevant searches.
Even though you may not mention your bed and breakfast directly in every single post, people who are interested in the topic of a particular post will be directed to your website where they will then have the opportunity to learn about your accommodations. In short, try to convince them why they should stay before you convince them where they should stay.
Don't forget to make sure that your content won't become outdated in a short period of time. By focusing on topics that remain evergreen rather than time specific events, your blog will retain more authority and have a longer shelf life.
Remember to look back on previous posts every now and then to keep them up to date as well. The longer your blog posts live on the internet, the more traffic they can bring to your website, which can then be converted into customers. The following example from Stonecroft Country Inn's blog post illustrates this point:
Another important element of a successful blog post is the number of links pointing to your content. Wherever possible, you should try to include links to other websites (including relevant pages on your own website) as a way to increase the authority of your webpage, helping it rank higher in search engine results. However, ensure that you are only using links where they are necessary and add value to the reader.
If search engines like Google see too many links on one page it may be considered spam.
This works in the reverse as well. When other outside websites link to your content, it builds your domain authority which will increase your search engine rankings overall. This is yet another reason that you should provide your audience with as much useful information as you can and carefully plan your content to get the most out of it.
One of the most valuable aspects of an innkeeper blog is the opportunity to give your business personality. The content that you produce should portray the kind of experience that you want your guests to have when they stay at your bed and breakfast. By infusing your blog with personality, you have the chance to build a relationship with your potential customers, which can be invaluable for occupancy rates.
Blogging is also a great way for previous customers to stay up to date with your bed and breakfast, maintain these relationships, and gain more repeat customers. The Stonecroft Country Inn does a great job of instilling its personality throughout their blog post, including this excerpt promoting their bed and breakfast:
As an innkeeper running a bed and breakfast, your time is valuable and scarce. Booking websites may seem like an easy way to advertise to travelers, but they might be eating up your marketing budget with very little reward.
Instead, starting an innkeeper blog or optimizing your existing one can be a much more effective method of spreading awareness and landing more bookings. When done well, blogging is well worth the time you will invest in it and can be highly beneficial to your business.