Written By
Ryan Sylvestre
The Stack is a weekly podcast where we share and discuss the latest trends, news, and content from the world of marketing, sales, and tech. In each episode, Sean, Tim, and Ryan sit down to chat about the hard-hitting questions related to sales, marketing, and tech. You can subscribe on iTunes, Soundcloud, Spotify, and Google Play Music.
In this episode, we talk about how to build an advanced blogging strategy, HubSpot's integration roundup for the month of February, and Instagram's new business update. We would love to hear your thoughts so make sure to comment or tweet us at @Sylvestrer1, @SeanHenri, and @Tendrecroppes or @PepperlandMKTG.
HubSpot Product News
As bots become a large part of any marketing and customer service strategy it's important to give users a human connection. HubSpot has rolled out an update that allows you to add PDFs, GIFs, and images to any chatbot conversation. You can make changes to the files displayed by updating your chat flows with new content or pick from existing content from the file manager.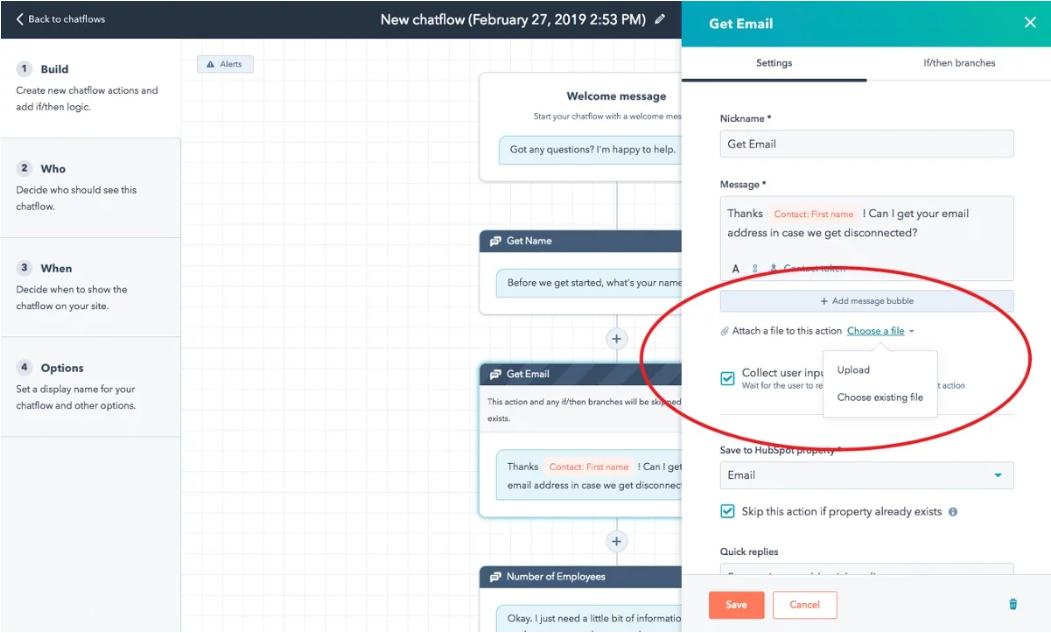 Key Takeaways:
Don't be afraid to leverage non-traditional content as a part of your chatbot and general conversational marketing strategies to help you build relationships with your leads and website visitors
GIFs, videos, PDFs, and Images are being incorporated into text messages, social media, and everyday conversation. People expect to see them and having them in place will help drive a relationship between your brand and your customer.
GIFs can be especially helpful for answering support questions or resolving signup issues. Consider creating a library of solutions in GIF format to FAQs and leveraging those.
Elizabeth Rivelli for SnapApp
This article discusses advanced tactics marketers are using in order to make a sustainable blogging strategy. They interviewed roughly 70 marketers about the common things they do to increase the effectiveness of their editorial process. Having a well built-out editorial calendar is great, but using a few of the steps outlined in this study might help you push your content up to the next level.
Key Takeaways:
Focus your blogging strategy around a well thought out buyer persona. Understanding every aspect of their concerns, problems, and hardships will help you create compelling content.
Conduct some user-research to dig deeper into your ideal buyer. Instead of going off a hunch or good keyword research, talk to your customers to get this information first-hand.
Analyze what your competitors are doing and use that information to stand out. See what your competitors are doing well and create unique content that dives a little deeper to give the reader more value.
Matt Southern for Search Engine Journal
Instagram is replicating what seems like their own version of a Google Business Listing. In order to have a business listing on Instagram, you must have a business Facebook page. All the data to build your Instagram page will come from your Facebook business profile. If you want to optimize your Instagram listing, search for your business, click the location, and click "Claim". This will prompt you to log into your Facebook profile to link up the accounts. Keep in mind, this might not be widely available to all users yet.
Key Features:
Showcasing your Instagram business page will give users quick and easy to understand information about your business that might encourage them to click through to your website.
If Instagram is a major source of leads or customers, make sure you go and claim your business page and verify the information so it's accurate.
Leverage this as part of your ongoing marketing strategy and stay on top of updates to these pages because it's likely Instagram will be adding more features as time goes on.
App Of The Week: VOIQ
Several years ago, InsideSales.com did a study that measured the impact call response times had on connecting with, and ultimately closing a lead.
The study found that the odds of contacting a lead if called in 5 minutes versus 30 minutes drop 100 times. The odds of qualifying a lead if called in 5 minutes versus 30 minutes drop 21 times.
VOIQ VoiceBots fully automates your sales and marketing call tasks by having conversations with your leads and customers. They can call your leads or customers to remind them about an upcoming meeting, event, or payment, schedule meetings, engage prospects who've recently downloaded marketing content, qualify leads, and so on.
This month they released a new integration with HubSpot, which is really central to their entire platform. It allows you to trigger a VoiceBot using a HubSpot Worklow.
VOIQ is a game-changer for any HubSpot customer who needs to step up their lead response time, but aren't ready to hire a full-time BDR/SDR just yet. We gave it a spin and it was super easy to set up. I love the fact that you can use data in your CRM to personalize each and every call, and how easy it was to integrate it with any action available in a HubSpot workflow. It was also great to see how many voice options you get – even with the free plan. You definitely need to give this a try. -Sean Henri
Some of the use-cases that we see include:
Pre-Qualifying leads before handoff to a real person – great for high volume situations when you want to reserve the time of your staff for truly qualified conversations.
Booking Meetings– this could be either prospecting and cold outreach, or responding to inbound leads. You would create an automated workflow that ping-pongs between automated emails and phone calls, prompting the prospect to book a time. Once a meeting is booked, the workflow would end.
Appointment Reminders – say you're a dentist and you want to make sure someone comes in for their bi-annual cleaning without bogging down your staff.
Renewal reminders – if you're a hair salon and want to give people a nudge to come back in for their next appointment.
This integration is still quite new, so we imagine this already pretty amazing solution will only get better as the year progresses.
The Lightning Round: What We're Reading This Week
In this section, we quickly run through some other updates that we didn't have enough time to deep-dive on, but we still felt were noteworthy.
Listen or watch for new episodes each Friday, or check out the archives to watch past episodes on-demand. Like what you hear? Leave us a review or let us know in the comments!