The Stack is a weekly podcast where we share and discuss the latest trends, news, and content from the world of marketing, sales, and tech. In each episode, Sean, Tim, and Ryan sit down to chat about the hard-hitting questions related to sales, marketing, and tech. You can subscribe on iTunes, Soundcloud, Spotify, and Google Play Music.
In this episode, we talk about some new updates coming to Google that could impact the way you strategize.
We would love to hear your thoughts so make sure to comment or tweet us at @Sylvestrer1, @SeanHenri, and @Tendrecroppes or @PepperlandMKTG.
@searchliason via Twitter
Google announced via Twitter they will be rolling out a broad algorithm update later today. While this news is relatively new, the webmaster community is buzzing with anticipation. Danny Sullican (@dannysullican) said he expects the update to take a few days to full roll out so it may take a bit to see any changes. These updates can sometimes be cause for concern but you always want to keep an eye on your Google Search Console, Analytics and other reporting tools to see if their are any big drops or spikes.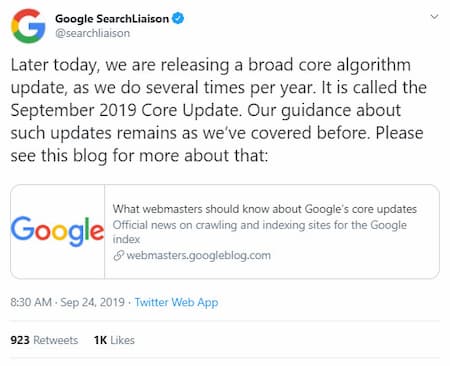 Key Takeaways:
Don't panic! Like I said before, just keep an eye on your reports and if there are any big changes you can investigate and take any action if necessary.
Google Webmasters
Google has made some updates to the reporting in Google Search Console. They have added a new date range to show the most recent data which is clearly label when you start to filter by date. You can see a preview of it below. Previously, if you wanted to see data from Monday, you would have to wait a few days to see the data.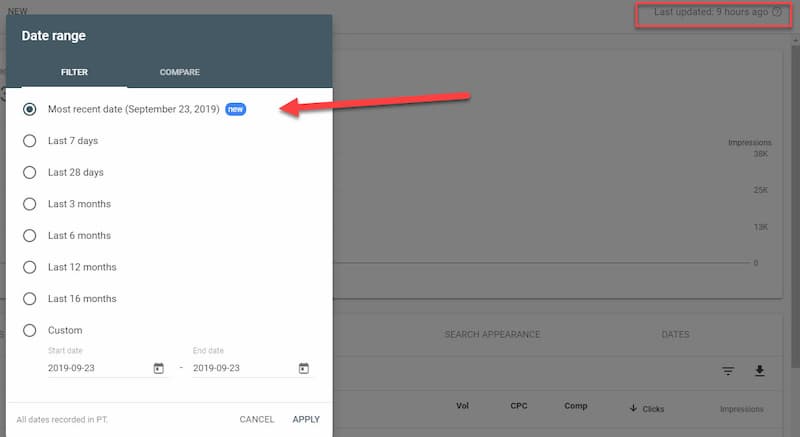 "With the new fresh data, users can now see data as recent as less than a day old – a significant improvement compared to the previous few days."
Key Takeaways:
You can get fresh stats without waiting. If you need to keep an eye on your websites numbers for a specific day or holiday, you can see how your sites performing with very little lag time.
You can see changes to your rankings, clicks, etc, days before to identify a problem or issue on your site.
You can also export your performance by dates now. You can pick customized timeframes to help you track changes over time.
Hugo is a way for teams to create meeting notes and action items seamlessly between meetings. You can collaboratively take notes, assign tasks, log meetings and call all through integrations like slack and HubSpot. They offer a free plan that allows you to have up to 40 team members and you can create unlimited notes and agendas. This syncs with Google or your Microsoft suit.
Takeaway:
For teams that are constantly bouncing around from meeting to meeting, Hugo helps you keep track, assign, and loop in other team members all from one app.
The Lightning Round: What We're Reading This Week
In this section, we quickly run through some other updates that we didn't have enough time to deep-dive on, but we still felt were noteworthy.
Listen or watch for new episodes each Friday, or check out the archives to watch past episodes on-demand. Like what you hear? Leave us a review or let us know in the comments!