Written By
Ryan Sylvestre
The Stack is a weekly podcast where we share and discuss the latest trends, news, and content from the world of marketing, sales, and tech. In each episode, Sean, Tim, and Ryan sit down to chat about the hard-hitting questions related to sales, marketing, and tech. You can subscribe on iTunes, Soundcloud, Spotify, and Google Play Music.
In this episode, we talk about the impact of using "Link in Bio" when trying to drive traffic, new Instagram features, and analyzing SERP to build keyword lists. We would love to hear your thoughts so make sure to comment or tweet us at @Sylvestrer1, @SeanHenri, and @Tendrecroppes or @PepperlandMKTG.
Scott Ayres for Social Media Lab
Social Media Lab did a study on the impact of using the "Link in Bio" language in their captions and stories. After reading through the study, I am sad to see that maybe some of the things I have done in the past have impacted our reach and conversion. This study shows how you can be hurting yourself by trying to drive traffic to your website via photo or story captions.
"Instagram is about photos in the feed and keeping users on the feed, unless sent outside of Instagram from an ad. It makes sense that Instagram would diminish the Reach of these "Free" ads."
Key Takeaways:
The "Link in Bio" Strategy is dead
Social platforms value profiles and posts that keep users on the platform so it makes sense that they will bury your posts if you're trying to get people away from their application.
Creating interesting content is its own avenue to your website. If you try to build up your posts to be more creative and compelling, you might organically send people to your website.
Instagram Infor Center Blog
Instagram rolled out a few updates to improve how we connect with one another on their social platform. Their stories, camera, and shopping features are all getting a boost with this roll-out. You will now be able to support a non-profit organization right from your own story. The new camera will have new features and ways to create compelling content complete with new stickers and effects. Lastly, and maybe most important, you will now be able to shop directly in the app. Your favorite influencers will be able to tag products in their photos and you can follow the link and buy within the Instagram app.
"Starting next week, you can shop inspiring looks from the creators you love without leaving Instagram. Instead of taking a screenshot or asking for product details in comments or Direct, you can simply tap to see exactly what your favorite creators are wearing and buy it on the spot."
Key Takeaways:
Stories are becoming increasingly interactive. The addition of the donation sticker is a step in a positive direction and promotes helping and connecting with those in need.
The new camera is going to be something marketers and users alike can use to create awesome looking stories that help them draw people to their profile and get them more comfortable with that business, brand, or person.
The shopping addition is going to be a great thing for all e-commerce based businesses who can benefit from people featuring their product on Instagram.
Facebook Newsroom
Facebook is making changes to their video ranking algorithm in the hopes to provide users with more personalized content. In order to accomplish this task, they are introducing three key updates to their ranking system. This effort seems to be a continuation of Facebook's efforts to improve its transparency and possible deflect some of the bad press that has consumed their company for the past few months.
"We are sharing an update on three factors that impact video ranking on Facebook: 1) loyalty and intent, 2) video and viewing duration and 3) originality. "
Key Takeaways:
These updates will reward original content with a big effort in reducing the presence of duplicate content in the news feed.
Users are going to be seeing more content that aligns with their interests which can be beneficial for companies that are trying to grow a loyal follower base.
The Moz Team for the Moz Blog
Trying to start a campaign centered around a keyword list can be a daunting task. This is especially true for companies or small business who don't have the keyword analysis tools like most marketing agencies do. The Moz Team pulled together this blog post which does a fantastic job outlining how people without these keyword tools can build an awesome and successful keyword list. They leverage clues from Google search results pages to influence the types of questions, keywords, and information you should target in your campaign.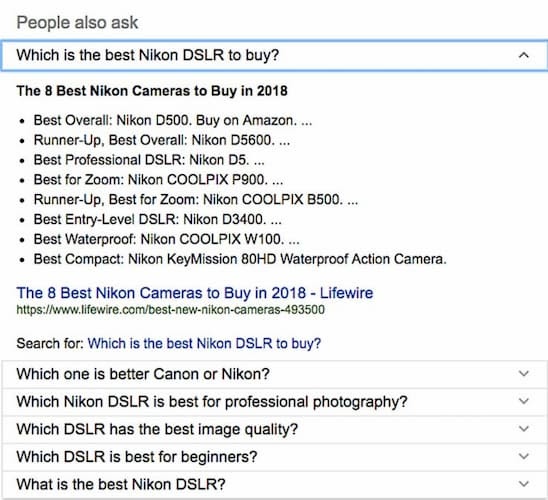 "Not only are [People Also Ask] questions excellent long-tail additions to your keyword set, they're also a great resource for content inspiration. The various ways that they express the same basic question can help you expand on topics — one piece of content could easily answer PAA questions such as "What a photographer needs to get started?" and "What tools do I need to be a photographer?"
Key Takeaways:
Using featured snippets, people also ask boxes, and other curated information can you give important clues of what Google is looking for and might give you some ideas on what topics to pursue.
Looking at the "People also searched for" is Google's way of telling you that this article might not have all the information you're looking for. This will help you outline your article so you can be sure to include all of the important things surrounding that topic.
While keyword analysis tools are great, you can get tons of information directly from the SERP. Here at Pepperland, we use the SERP to point us in the right direction when we do our keyword research.
App Of The Week
Creative Commons
Creative Commons is an online platform that helps you identify safe images for you legally share or add to your content. Their library of licensed images allow you to easily find and add images to any kind of content you want.
The Lightning Round: What We're Reading This Week
In this section, we quickly run through some other updates that we didn't have enough time to deep-dive on, but we still felt were noteworthy.
Listen or watch for new episodes each Friday, or check out the archives to watch past episodes on-demand. Like what you hear? Leave us a review or let us know in the comments!