Written By
Tim Stobierski
To really understand how inbound marketing can work for your business in the tourism industry, it would be helpful to see an inbound marketing campaign in action. Here, we show you what inbound marketing looks like for a couple of tourism companies who implemented inbound marketing plans.
---
Free Guide: Inbound Marketing for Tourism
Everything You Need to Know to Increase Traffic, Capture Leads, and Gain More Customers and Bookings Through Your Tourism Destination's Website

---
Tentrr
Tentrr is a website that can best be described as the Airbnb for camping. Campers who are looking for a campsite go the the website, and use a number of filters to find a campsite that meets their needs. (You can filter by location, arrival and departure dates, activities, and other features critical to you enjoying your trip.) Just like on Airbnb, you can use the site to rent a campground or to list your own campground for rent.
Pretty nifty, right?
Being a relatively new service (Tentrr just got off the ground last August), they've got a number of issues high on their priority list. One of the top priorities appears to be, of course, attracting users to their website that will become customers by either booking campsites or listing campsites.
Tentrr has taken a number of pages out of the inbound marketing playbook in order to jumpstart this process. They just recently began a weekly blogging initiative, which will help them to begin ranking for valuable search terms and keywords that their customers are likely searching for.
In addition to helping with SEO, the blog posts offer visitors valuable information, which is critical to any inbound strategy: By being helpful to your visitors from your very first interaction and not just trying to sell to them, you are building a relationship of trust and respect that will come to your benefit later as your website visitors are further along the funnel.
But they don't stop with blogging. The website is intuitive to use and visually appealing to users, while being dynamic between devices, which is also important (and which are features that Google prioritizes).
In addition to this, Tentrr makes use of a variety of calls-to-action (CTAs) to help drive their website visitors along the process of converting into customers.

As long as they continue creating blog posts and other content that will appeal to their ideal buyer personas, and maintain an intuitive funnel through CTAs, landing pages, and forms, it's very likely that Tentrr will be successful in their inbound marketing strategy.
Kampgrounds of America
Kampgrounds of America (KOA) is another example of a business in the tourism industry specifically related to camping which has embraced the inbound methodology. Similiar to Tentrr, their website helps campers find campgrounds that meet their needs and locations.
Like Tentrr, KOA has a visually appealing website design that helps draw users in. Right on the homepage of the website, visitors are given a form to interact with which can help them begin converting without needing to click around on the site. They are also given a number of CTAs to interact with which can help them easily find the information that they need without becoming overwhelmed while navigating the website.
Where KOA really stands out is their blog.
Their blog is incredibly active, which means two things: 1.) Individuals who have subscribed to the blog have a reason to keep coming back, and with each interaction they have with the site their chances of converting to a customer are higher, and 2.) Each blog post gives them another opportunity to rank for the keywords and search terms that their potential customers are using.
Having an editorial blog schedule that publishes multiple times a week is one of the keys to a great inbound marketing strategy.
In addition to their blog, KOA has a number of content offers which also help their site rank in search engines, and which give them the opportunity to begin building a relationship of respect and value with their website visitors.
For example, they offer a directory of recipes that people can use to plan the meals (and shopping lists) for their next camping trip.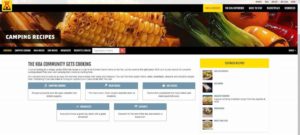 Is the strategy working for them? Thanks to some of competitive intelligence tools like SEMrush, it's easy for us to see that their organic website traffic has been growing steadily month over month, a tell-tale sign that their efforts are having a positive effect.
Even without these tools it's easy to see that KOA is being successful with their inbound marketing strategy because a google search for the word "cabin" (which is pretty generic) turns up a KOA page as the second search result. Great work!
Making Inbound Work for Your Tourism-Focused Business
The great secret to inbound marketing is that it isn't limited to only working for certain industries or businesses. The core tenets of the strategy are that by understanding your customers, creating content that they will find valuable, and by keeping them happy, you will naturally attract more and higher-quality website visitors, which will translate into more guests and customers for your business.