As a marketer, it is extremely important that anyone coming across your site is met with quality content, excellent user experience, and easy navigation. In fact, many businesses and organizations upgrade their websites regularly as part of their inbound strategy.
To ensure that you do not miss any opportunities to capture your inbound visitors, consider upgrading your website.
3 Ways To Upgrade Your Website
Whether the reason for this upgrade has to do with selling a product or service to potential customers, or gaining attention for a cause, here are 3 keys to focus on when upgrading your website for effective inbound marketing.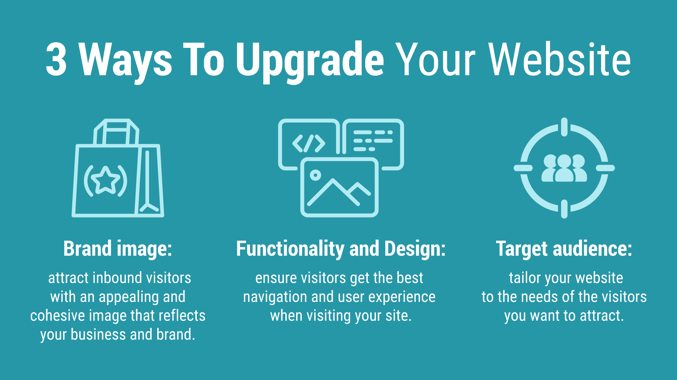 1. Brand Image
This is a fancy way of explaining what people imagine when thinking about your service or product. Since this is the initial impression visitors will have when visiting your website, design this brand image with purpose and clarity to best represent what your company.
Essentially, this is like judging a book by its cover. The graphics, colors, words, positioning, and other visual characteristics of a website, must be carefully chosen to reflect the personality and character of the service or product being offered.
Even when an organization is offering a common product or service, the brand image can set them apart from the competition. It can be thought of as a filter, which sifts through visitors, retaining only the target audience. This target audience will resonate with the brand image, relating to the persona behind it.
When developing a brand image to apply to your upgraded website, remember that you can't please everyone. This brand must be uniquely fit for your organization's personality, matching the end of the line service or product being offered.
2. Functionality and Design
This is where the rubber meets the road for effective inbound marketing. After a successful marketing campaign and a well-developed brand image, the visitor now needs to be funneled into an effective inbound marketing strategy. This means that the functionality of the website must be conductive and accommodating for capturing any interest a visitor has.
The entire point of upgrading a website is to better connect with visitors, thus effectively capturing their attention and funneling them into a sale or further connection. To accomplish this, you must create easy to locate and use contact forms. Also landing pages must be polished and inviting by providing clarity with a visually pleasing design.
Remember that phones are now more powerful than ever as they have easily become portable computers in your visitor's pockets. This means that your website's ability to be mobile friendly is more important now than ever. Searchers are now able to explore the search results for their queries, make purchases online, and decide whether or not your website is relevant to them - all at their fingertips.
Keep in mind that in order to stand out to these searchers, you will also need to be aware of your website's loading speed. No one waits around longer than a couple of seconds for a web page to load anymore!
Aside from the design, functionality is the strategy of website development and is used to capture sales and a loyal target audience. The strategies employed to reach this end are numerous, thus innovation and technological expertise are helpful here. Also helpful are proven practices and analytical data; depicting audience demographics and behavior.
3. Target Audience
Knowing the target audience you're attracting to your business is crucial to creating a relevant and functional website. This might be obvious, but it can truly have a big impact on every aspect of your inbound strategy.
It is important to know what their search intent is when they are looking for your site. What pages would have the most relevant information, and how can you create a smooth navigation structure for them to find what they need. Take time to explore your website and identify areas of improvement. Analyze the site with your target audience as the focal point for a better understanding of what your website should be providing.
Once you have a clear understanding of your target audience, then you can develop effective marketing campaigns to bring them to your now optimized and upgraded website.
Does Your Website Need An Upgrade?
Overall, the goal with all of these options is to make sure each part of your website has been considered for search engine optimization. This strategy will provide an effective website for your organization or business. Implementing these upgrading opportunities will help you get an edge on the competition, and establish a recognizable brand among the industry you're in.
There's nothing worse than going to a neglected website that has pages missing, is hard to navigate, and is difficult to understand. This is never conducive for sales, and is wasting a lot of inbound sales opportunities. Building out a comprehensive inbound strategy will help you take your website, and business to new heights.