Written By
Michael Boyles
Content marketing is becoming an increasingly popular avenue for companies to pursue. It's a necessary ingredient for inbound marketing campaigns, attracting customers to a brand rather than interrupting their experience. For this reason, pursuing a career in content marketing is a worthwhile career path for entry-level marketers. With the rise in demand, however, comes an increase in competition.
If you're trying to set yourself apart from other applicants, it's important to have a versatile set of skills to include on your resume. This article will cover:
What a content marketing specialist is
The skills content marketers need
How to obtain content marketing skills
What Is a Content Marketing Specialist?
Content marketing specialists create, edit, optimize, and strategize the direction of a company's content. They work to ensure that each piece of content is written to attract, engage, and delight their target audience. This often involves creating buyer personas, or semi-fictional representations of the company's ideal customer.
Content can range from blog posts on a company's page to social media posts, videos, or even podcasts. Content marketing specialists ensure that content of any form is interesting, relevant, and discoverable.
In addition to content creation, content marketing specialists also facilitate a company's content marketing strategy, manage its editorial calendars, and optimize previously published content to ensure it remains relevant and up-to-date.
If this sounds like a career that interests you, it's important to begin developing your skills now. Whether you're a college student, entry-level job seeker, or established professional looking to advance or change careers, make sure to familiarize yourself with the skills you need and the ways to obtain them.
30 Skills Every Content Marketer Needs
Content marketers often have a bachelor's degree in a marketing-related field. However, a marketing degree isn't required to obtain a content marketing position. Instead, many employers prioritize hiring individuals who are passionate about crafting effective content and have the required skills to succeed in marketing. Here's a list of the top 30 skills employers hiring content marketing specialists are looking for on your resume.
Top Specialized Skills
Employers look for a variety of skills for content marketing positions, both hard and soft. Hard skills are the specialized knowledge and expertise required to perform specific job-related tasks.
According to data from Lightcast, the top specialized, or "hard skills," that employers look for in prospective content marketing specialists are as follows: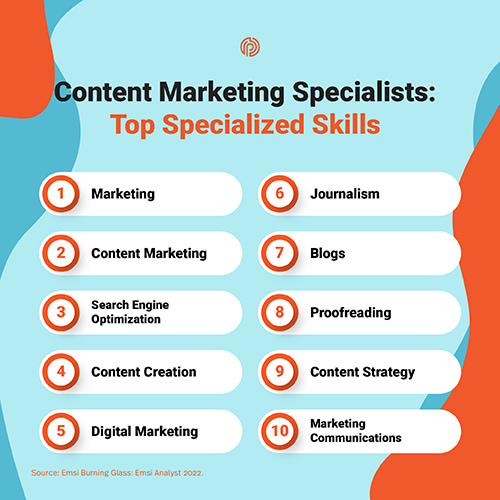 Marketing
Content marketing
Search engine optimization (SEO)
Content creation
Digital marketing
Journalism
Blogs
Proofreading
Content strategy
Marketing communications
Top Common Skills
Common, or "soft skills," are personal skills and qualities that aren't necessarily content marketing-specific. However, employers still look for these competencies to ensure applicants are the right fit for their company's culture. Some of these soft skills include: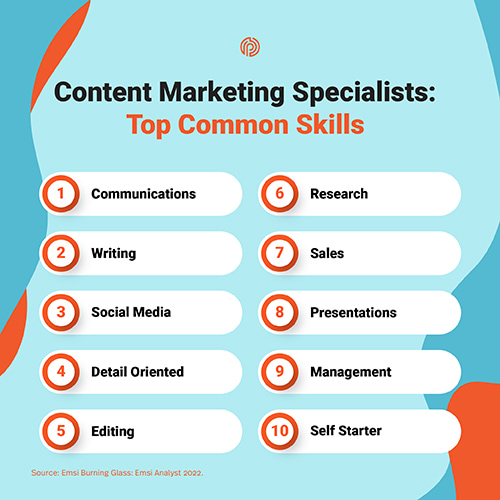 Communications
Writing
Social media
Detail oriented
Editing
Research
Sales
Presentations
Management
Self starter
Top Software Skills
Content marketers often use software to create and distribute content. If you're interested in working at a marketing agency, you'll need to familiarize yourself with a variety of software. Working with a variety of clients requires proficiency in multiple mediums of content creation and distribution.
Here are the top 10 software skills employers include in job postings for content marketing specialists: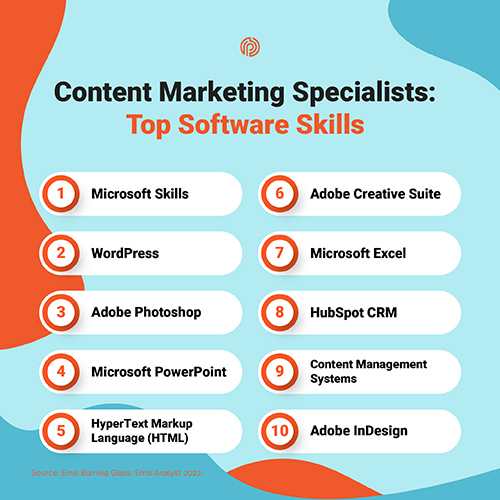 Microsoft Office
WordPress
Adobe Photoshop
Microsoft PowerPoint
Hyper-Text Markup Language (HTML)
Adobe Creative Suite
Microsoft Excel
HubSpot CRM
Content Management Systems
Adobe InDesign
How to Obtain Content Marketing Skills
One of the most common challenges recruiters face is testing prospective employees' skill sets listed on their resume. A job seeker may look perfect on paper, but in reality exaggerated their abilities to stand apart from the competition. If you're trying to obtain a content marketing position, it's important to include skills on your resume that you actually possess and can effectively demonstrate in your new role. Your goal shouldn't just be to land the job, but to succeed in it as well.
You might find it difficult to go about obtaining the skills you need, but the good news is there are multiple ways to develop your marketing knowledge and skills in an easy, demonstrable way.
1. Earn Marketing Certifications
One of the best ways to obtain marketing skills is to complete certifications. There are several free marketing certifications you can find online. These include:
These certifications will increase your knowledge of digital marketing, and are valuable additions to your resume or LinkedIn profile. They also demonstrate that you're a self-starter and passionate about learning⁠—a quality that many employers seek in applicants.
2. Seek Out Volunteer Opportunities
The interim between jobs can be a stressful time⁠, but it's important to not let that time go to waste. There are several ways you can obtain relevant experience while waiting for the right job. Reach out to local businesses, non-profits, churches, or schools to see if they're in need of marketing services. This can be an excellent way to simultaneously build your skillset and strengthen your portfolio.
3. Host Your Own Blog
A great way to demonstrate your passion and knowledge of marketing, while gaining experience along the way, is to host your own blog. Try to avoid creating a blog focused on your daily life, but rather an SEO-optimized blog with properly structured HTML.
There are several free platforms you can use to host a blog, including:
Consider writing about marketing-related topics to demonstrate your knowledge of the field. If you're seeking a job in a specific industry, it may be beneficial to write about subjects in that industry as well.
4. Apply for Internships
Internships may seem like settling, but the right internship can provide you with valuable experience and connections. It could even lead to a full-time job. In fact, approximately 68% of interns end up working at the companies they intern with.
Additionally, many companies like Pepperland Marketing, compensate their interns. An estimated 60% of internships are paid. So while an internship may not sound as appealing as a full-time position, it can be a great way to gain experience and skills while earning money along the way.
Looking For a Content Marketing Job?
If you're seeking work as a content marketing specialist, consider applying for a position at Pepperland Marketing. We offer continuous opportunities to grow your skill set while working on high-impact projects. If this sounds like something that interests you, check out our career opportunities to see if you're a good fit for our team.