Written By
Michael Boyles
Content marketing is an incredibly exciting branch of marketing. Effective content helps companies reach the right audience at the right time, attracting organic traffic to a website. Content marketing specialists are at the heart of successful marketing strategies, and play a key role in a company's organic success. This article will cover:
What is a content marketing specialist?
What does a content marketing specialist do?
How to become a content marketing specialist
What Is a Content Marketing Specialist?
A content marketing specialist is responsible for creating, editing, optimizing, and strategizing the direction of a company's content. They're tasked with ensuring content—regardless of its form—is interesting, relevant, and discoverable.
Content marketing specialists also strategize and contribute to the creation and distribution of content. They play a critical role in a company's inbound marketing strategy, as content can be used in the awareness, consideration, and decision stages of a marketing campaign.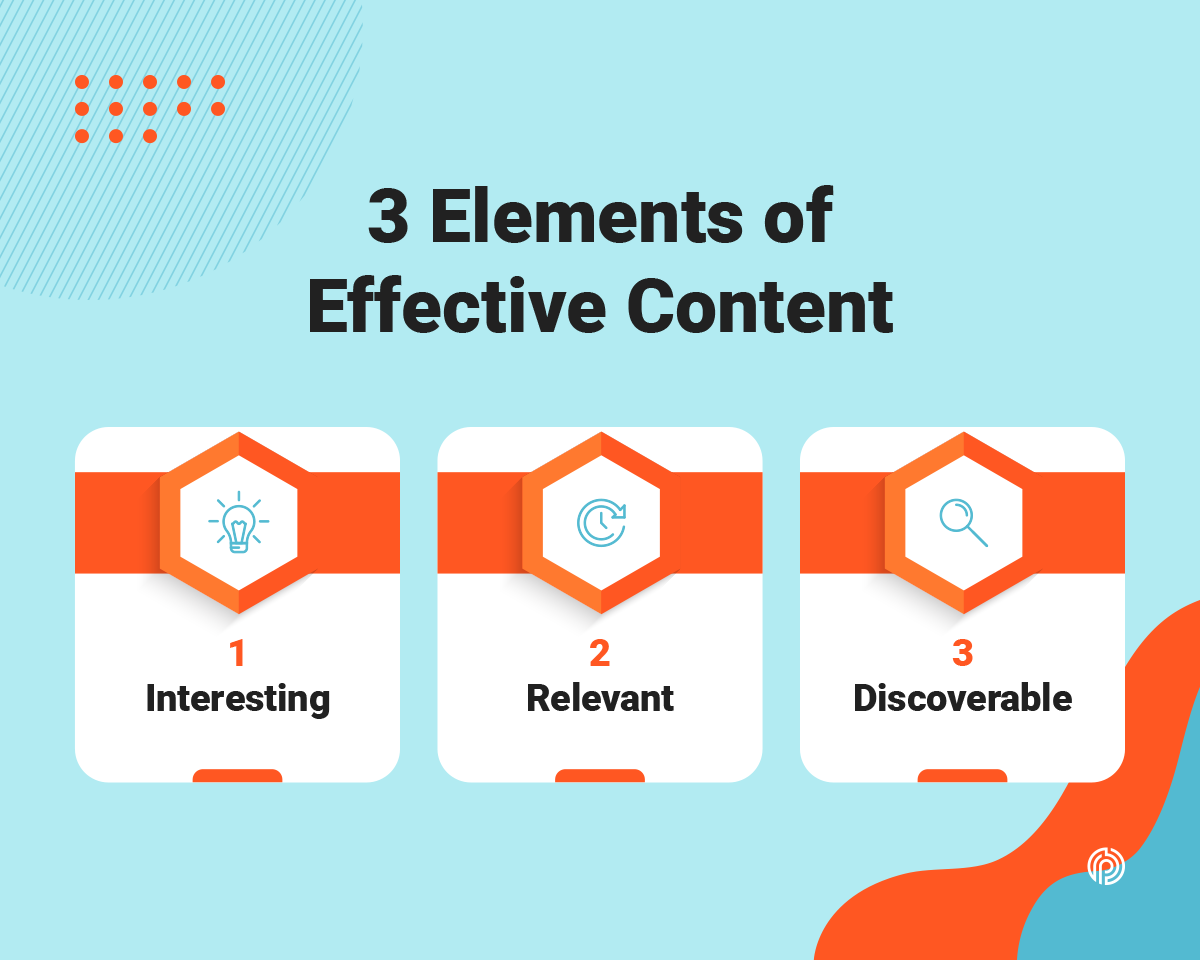 When you think of content, your mind might jump to blog posts or videos. However, there are many additional types of content, including:
Blog content
Video content
Podcasts
Emails
eBooks
Social media posts
Content marketing specialists might work with one or multiple different forms of content, depending on the specific position and the company services offered.
Content Marketing Specialist Responsibilities
There's no universal job description for content marketers since many have different roles and responsibilities depending on where they work. In many cases, they may have overlapping duties with SEO specialists, copywriters, email marketing specialists, or other members of a marketing team. However, here are five common responsibilities most content marketing specialists complete on a daily basis.
1. Writing and Editing
A primary duty of content marketing specialists is writing. Whether blog posts, emails, or video scripts, creating high-quality content takes up a large portion of their time. Writing content for marketing purposes, however, is very different compared to personal blogging. Content creation requires a focus on the target audience, an understanding of search engine optimization (SEO), and an unselfish approach to writing.
Content marketing specialists aren't immune to writer's block though. These roadblocks, paired with tight deadlines, can often result in stale, wordy, or, let's face it, boring content. In those cases, editing skills are incredibly important. Content marketing specialists often edit one another's work, or even material assigned to freelancers. This requires a thorough understanding of the company's brand voice, and adherence to its editorial guidelines.
2. Research
The most effective content is a product of thorough research. Research takes center stage in the content development process, which includes the following:
Buyer personas: Who your target audience is
Keyword research: What they're searching
Audience analysis: Which type of content would be most effective
Competitive research: What your competitors are saying on the subject
Semantically related keywords: How to write your content
External linking: How to increase your content's credibility
Internal linking: How to use it to guide your audience through your sales funnel
On-page optimization: How to improve existing content
Content creators need to conduct extensive research to produce valuable content for their target audience.
3. Content Strategy
Another common task content marketing specialists perform is the development and implementation of a content marketing strategy. Here's 6 essential components of an effective content marketing strategy:
Define content marketing goals: This step involves setting SMART goals—Specific, Measurable, Attainable, Relevant, and Time-bound—which provide a means of measuring success and provide a clear vision for your content.
Identify target audience: The target audience is identified by creating buyer personas, which determines the direction the content takes.
Choose which type of content to publish: Would the target audience/buyer personas respond better to blog posts, videos, eBooks, or social media posts? Content marketing specialists are a part of the selection process in choosing the right type—or types—of content to create.
Brainstorm topics for content strategy: Brainstorming involves creativity on the marketing specialist's part, as well as thorough keyword research to provide insight into what consumers are searching for.
Schedule content using an editorial calendar: An editorial calendar helps to organize and schedule content, and track its progress.
Continuously analyze and adjust published content: Content marketing is a continuous process. Published content needs to be tracked and measured to determine whether it's meeting the established goals and Key Performance Indicators (KPIs).
4. Search Engine Optimization
Content marketing specialists need to keep SEO best practices in mind when creating content, especially for written content like blog posts and articles. Each piece of content should be optimized as it's being written. This will:
Ensure the content has proper HTML structure
Give each image alternate text
Incorporate relevant keywords while avoiding keyword stuffing
Include a combination of internal and external links
Content marketing specialists also optimize existing posts. Regular on-page optimization helps ensure content continues performing well in search results as additional websites compete for valuable keywords.
5. Editorial Calendar Management
An editorial calendar, also known as a content calendar, is an effective way to schedule content and communicate deadlines clearly to your team. Usually taking the form of a spreadsheet, editorial calendars are shared with other team members to ensure everyone is on the same page. Marketing agencies have an additional need for this documentation, often using editorial calendars to inform clients what content has been delivered, scheduled, and published.
Content marketing specialists can also use editorial calendars to conduct content audits. Keeping content in one organized location streamlines both content creation and tracking performance.
How to Become a Content Marketing Specialist
Looking for work as a content marketing specialist? Whether you're an entry-level job seeker or a seasoned expert, content marketing is an exciting career with an abundance of opportunities. Here are seven steps to becoming a content marketing specialist: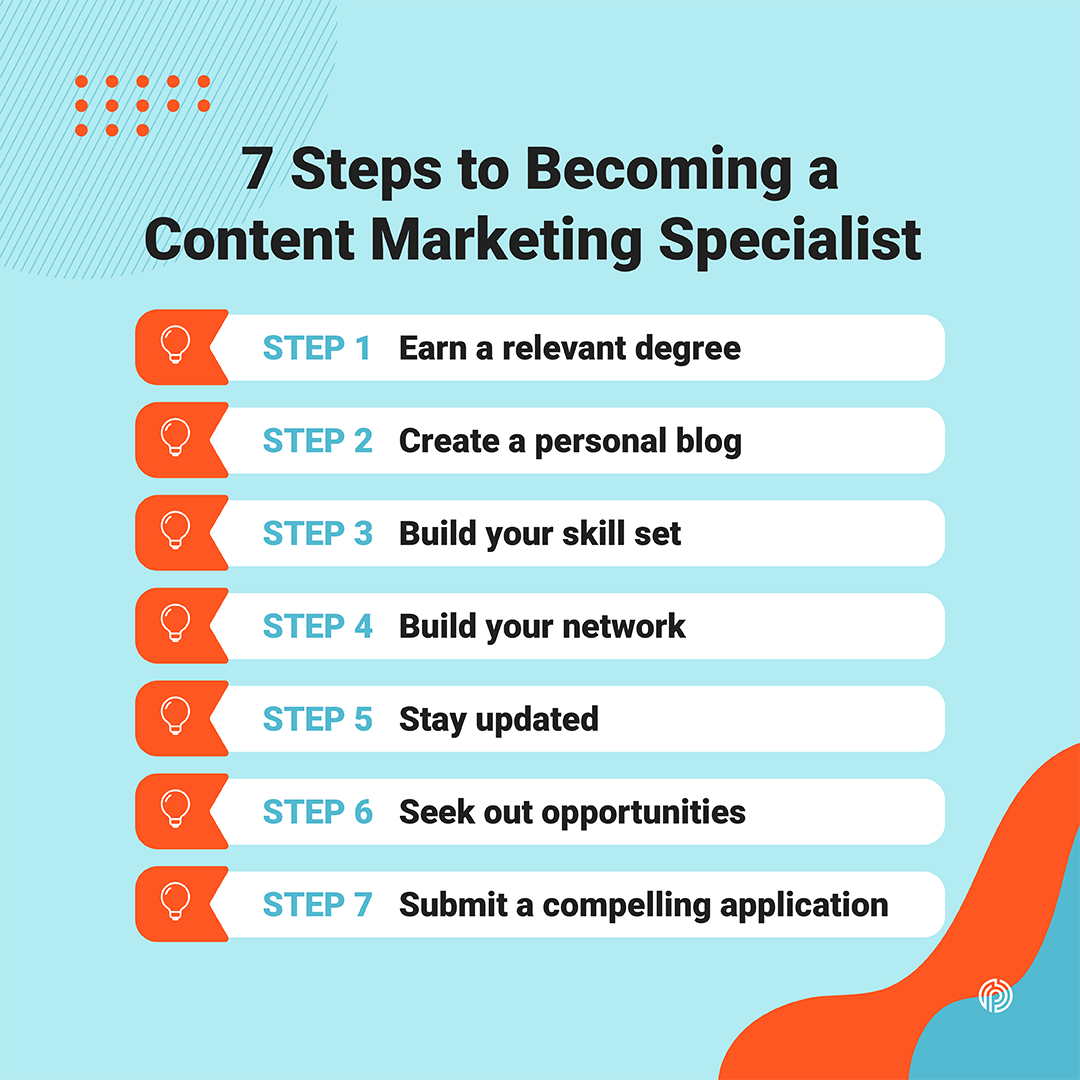 Earn a relevant bachelor's degree: The majority of marketers typically have a bachelor's degree, but it doesn't have to necessarily be in marketing. Many content marketers have degrees in journalism or communications.
Create a personal blog: Creating a personal blog is a great way to set yourself apart from the competition. Use it to demonstrate your skills as a marketer and passion for content creation.
Build your skill set: Regardless of where you are in your career, you can always work on developing more skills. Highlight your skillset on your resume to demonstrate that you have what it takes to succeed in your role. For example, marketing certifications are an excellent way to accomplish this.
Build your network: Building up your network is an excellent long-term strategy, even if you're content in your current role. Leverage LinkedIn to connect with like-minded individuals and start a conversation.
Stay up-to-date: It's important to maintain a working knowledge of marketing. Stay up-to-date on marketing news and trends by subscribing to marketing-related blogs and newsletters.
Seek out opportunities: If you lack content marketing experience, connect with local or family businesses and volunteer your services as a content marketer. This demonstrates your proficiency in creating exceptional content, as well as builds up your portfolio.
Submit a compelling job application: Invest time into personalizing your application. This can help you separate yourself from other applicants.
Looking for Work as a Content Marketing Specialist?
One excellent way to get your foot in the door as a content creator is to look for content marketing internships. These can often lead to a full-time position and can help you develop relevant skills and experience, especially if you're an entry-level applicant.
Interested in a position in content marketing, or other marketing-related role? Take a look at the career opportunities available at Pepperland Marketing and kickstart your career in content creation.