"I want people to experience what it's like to be a part of our community."
"We need to do a better job telling our school's story."
"Our competitor's website looks like the Four Seasons, while ours looks like the Four Seasons Motel."
These are common statements made among school leaders, administrators, and board members during the early stages of a website redesign project.
While these remarks are well-intended, they can often put a project at risk from the very beginning. Great design, excellent storytelling, and eye-catching CTAs are all essential attributes of a successful website, but shouldn't be the initial focus when kicking off a project.
Take a closer look at those statements and you'll notice that they contain words like I, we, and our. Project directives that are internal-facing, rather than external-facing, aren't effective when tackling website redesign, and here's why:
A website can't exist simply as a mouthpiece for your story. Visitors won't care about your effective storytelling and beautiful images if that information doesn't help them in some way.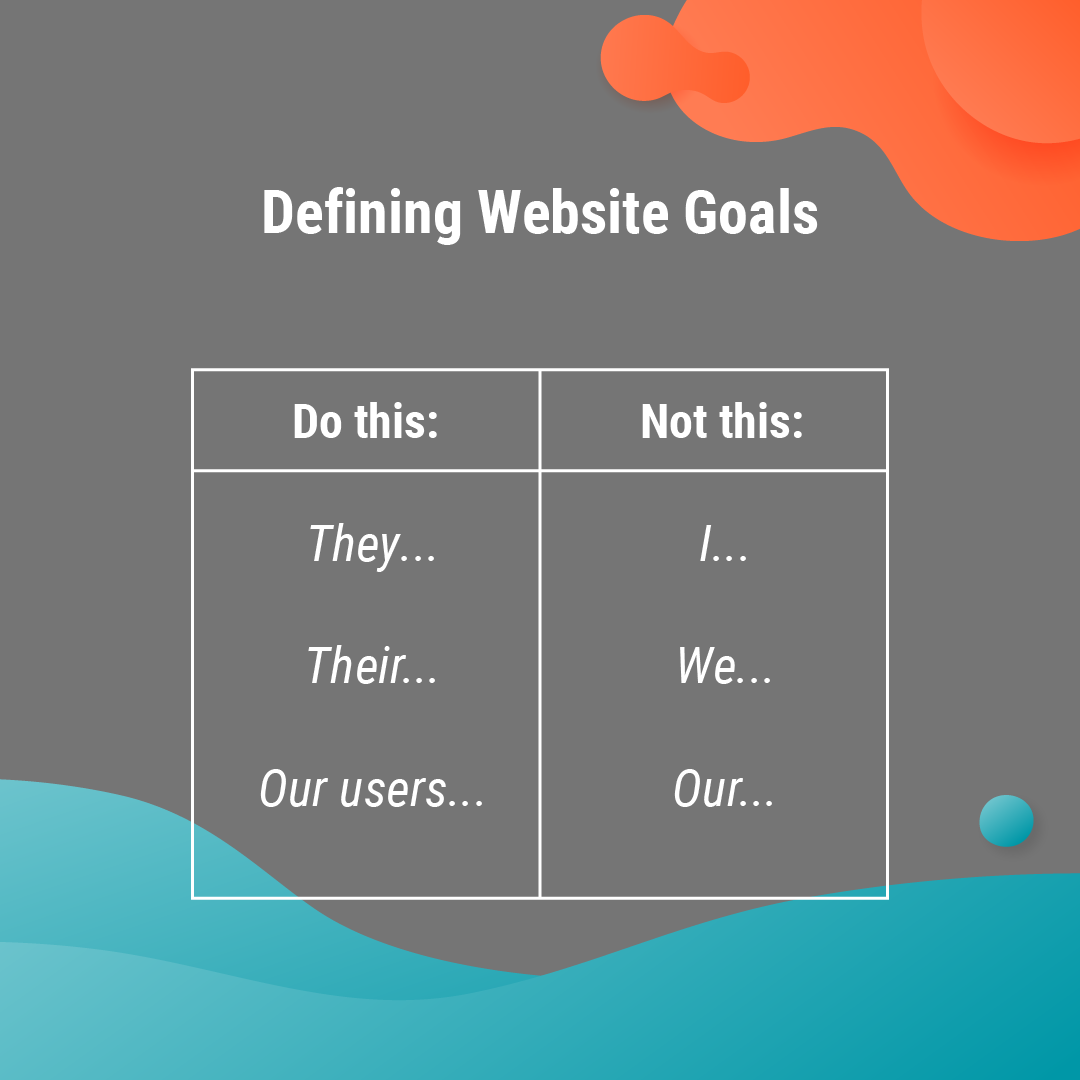 Tip: Download the free worksheet that accompanies this guide.
Put Prospective Families at the Center of Your School Website Strategy
Rather than allow these internal-facing comments to drive your strategy, you'll want to start your project by identifying exactly how the website needs to serve your target audiences. Remember, your visitors aren't coming to your website just for fun; they're coming with a specific task in mind. That task may be seeking information about your approach to academics, registering for an upcoming admissions event, completing an application, or simply finding an email address. Your website needs to facilitate these important tasks, and do so in a way that meets the user's goals and expectations.
Who are these users you're trying to help? In short, a website should exist to serve the needs of your existing and potential customers. For schools, the customer is students' families—current or prospective. It might be easy enough to get all stakeholders aligned on the objective to serve the needs of both groups, but it can be difficult to identify which one to prioritize.
---
Define Your Website User's Jobs-to-be-Done
Use this worksheet to identify the primary job to be done and the smaller jobs that need to be completed during their visit(s) to your website.
---
By default, current families are the most important group to your school's success. They're at the heart of your community. Since your school wouldn't exist without them, retaining your current students is crucial, and in some cases, more important than recruiting new ones. But should your website strategy focus on them? Probably not.
Current families are already plugged-in to your systems, apps, and tools. They have access to parent portals, receive weekly email newsletters, engage in private social media communities, and follow your school's Facebook page. Your website is probably the last place they'll go for information. Therefore, a simple link to the parent portal at the top of your homepage is usually enough to meet their needs.
This means you're free to devote the other 90% of your time and energy to focusing on the needs of prospective families. The rest of this article offers a simple, yet powerful way to identify and address these needs: Jobs to be done.
What is the Jobs-to-be-Done Theory?
The Jobs-to-be-Done Theory was first introduced in The Innovator's Solution, a book published in 2003 by Harvard Business School professor Clayton M. Christensen, in his chapter "What Products Will Customers Want to Buy?" It was further popularized in 2016 in an HBR article "Know Your Customers' 'Jobs to Be Done,'" as well as the book Jobs to Be Done: Theory to Practice by Anthony W. Ulwick.
The theory suggests that customers buying or using products are essentially "hiring" those products to help them complete a task. The task could be drilling a hole, providing entertainment while driving, or presenting information to facilitate a decision. These tasks are referred to as "jobs to be done."
At a minimum, a product or service needs to help the user accomplish their functional goal to be selected. Ideally, it should also help them realize the underlying emotional or social goal that triggered the decision-making process behind completing their task in the first place.
By applying this analogy to the customer's decision phase, this theory encourages businesses to focus less on demographics when segmenting audiences for marketing or innovation, and more on core jobs that their audiences are attempting to achieve. Specifically, in Clayton's chapter of The Innovator's Solution he recommends focusing on "the progress that the customer is trying to make in a given circumstance—what the customer hopes to accomplish." That is the job to be done.
While this theory has primarily been used by business leaders, innovators, and product designers, it's also found a home among marketing strategists and UX designers looking to help their clients create meaningful digital experiences for their intended audiences.
At Pepperland, we believe the Jobs-to-be-Done Theory is the best way to keep your website's strategy closely aligned with the top reasons prospective students and their families come to your school's website.
Examples of Common School Website Jobs To Be Done
Remember, a job to be done is a problem your customer is trying to solve, or an opportunity they want to capture. The best way to identify these jobs to be done, is using the following statement format:
As a ______,

when______,

I need to/I need help with/I need to avoid_______,

So I can______.
This statement is a blend of a traditional user story and job stories, which focus less on user types and personas and more on the situation they find themselves in. For the rest of this article, we will simply refer to these statements as job stories.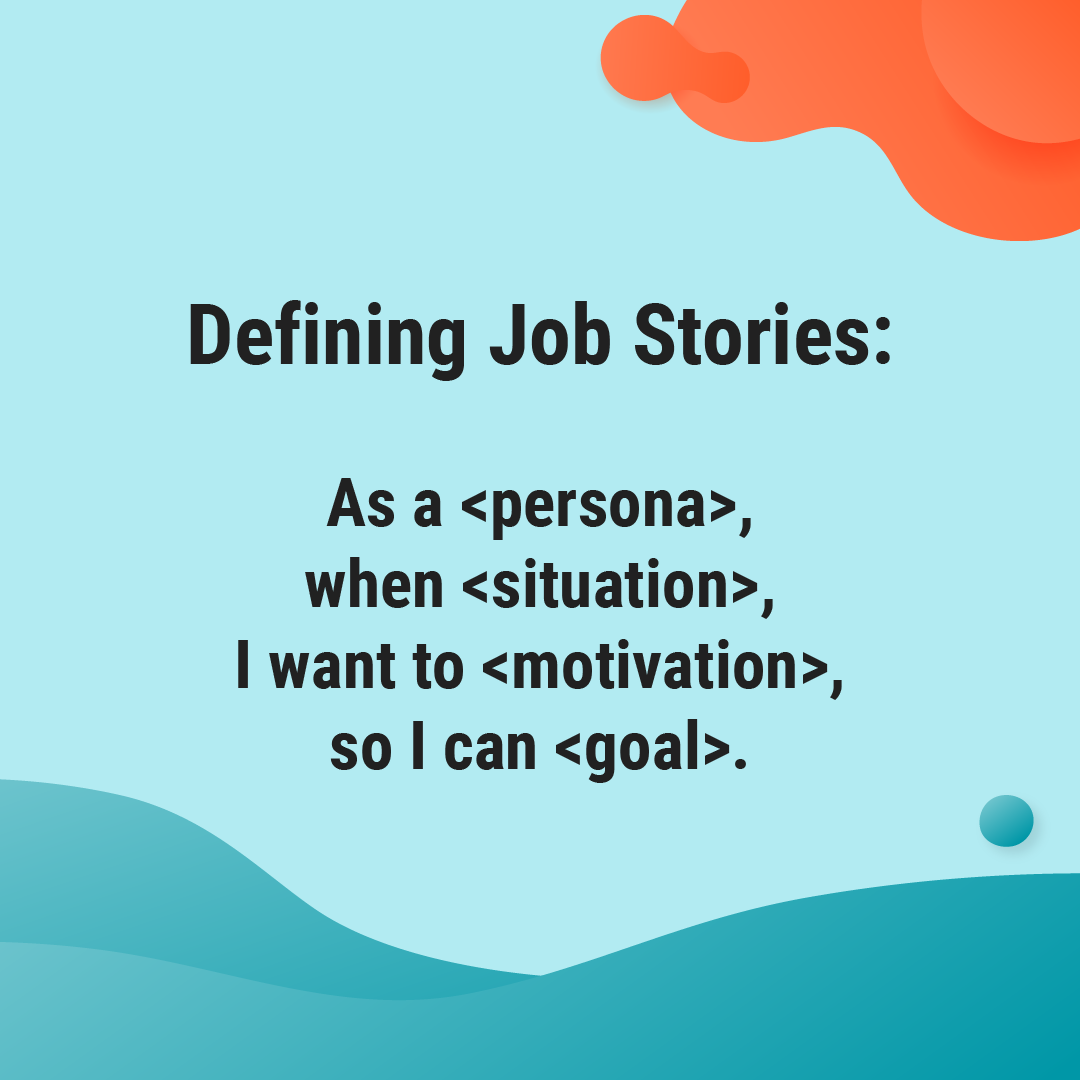 The job to be done on your website will vary depending on a myriad of factors, including their role in the customer's decision, the situation your customer is trying to solve, and what stage of the decision-making process they're in. Typically, there's a single, big picture, overarching job (i.e., finding a school for their child to attend) that triggers many smaller jobs over the course of several months, and even years.
Below is an example of a "big picture" job to be done:
As a parent of a 6th grader whose current school system ends at middle school-level, I need to find an academically rigorous, yet tight-knit high school that will challenge my son and offer him the same level of individualized attention we've come to expect, so he'll be fully prepared for college while maintaining a sense of community and close friendships.
This example is detailed and specific. Reading it, you can almost imagine a real parent and student you might know. Now you'll want to think about the journey they might go on in order to find a solution for this job.
At the earliest stages of their journey—the Awareness Stage—jobs might include:
As a___, I need to learn more about what college admissions counselors look for in an applicant's high school experience, so I can properly prepare my child.
As a __, I need to find out when I should start researching high school options with my child, so I don't start this process too late.
As a __, I want to learn more about what my child's friends are thinking about after middle school, and where their families are in the decision-making process, so there's a chance my child retains their close friendships in high school.
As a __, I need to learn what I should pay closer attention to while my child is in middle school, so we're fully prepared for what comes next.
These jobs are incredibly valuable for many reasons, but it's important to note that each of these moments might trigger a separate visit to your website.
Note that we omitted the "when" part of the statement. This is because we're using the journey stage (Awareness/Consideration/Decision) to indicate the situation the user finds themselves in. Be sure to define and document a user's situation during each of these three stages, if not directly into your job stories.
As they become active in the process—the Consideration Stage—jobs begin to shift more toward researching and comparing schools. Jobs might include:
As a __, I need to learn what I should be looking for in a prospective high school, so I can feel prepared to research and compare my options.
As a __, I need to see if paying for a private or independent school is worth the investment, or if the same outcomes are possible through tax-dollar funded public schools, so I can budget accordingly.
As a __, I need to learn what questions I should be asking my child about their views on prospective schools, so I know my child is playing an important role in the decision-making process, while still guiding them in the right direction.
As a __, I need to learn what types of schools, and which specific schools other kids in my child's class typically attend or plan to attend, so I can try to maintain my child's close relationships.
As a __, I need to learn what the top ranked high schools are in my area, so I can narrow down my search.
As a __, I need to evaluate if "the best" school is truly the best option for my child, or if a different set of factors might be more important to our family, so we can make the right decision, regardless of school status.
As a __, I need to learn more about a specific school's reputation, so I can decide if I should actively consider it or not.
As a __, who's feeling overwhelmed, I need a way to organize my thoughts and requirements while researching and comparing different schools, so I can remember what options we liked or didn't like.
As a __, I need to learn if a school has a specific club that my child currently enjoys at their school, and would want to pursue further in high school, so I can determine if this school should be on our short list.
As a __, I need to see if a school's track team meets the standards we're looking for, so my child can continue to feel challenged athletically.
As a __, I need to see tuition costs and what financial aid options might be available to us, so I can determine if this school is within our means.
As a __, I'd like to schedule a phone call with someone at the school to discuss some specific questions I have that are unique to my family's situation, so I can properly prepare for an in-depth conversation about my child's future, knowing I'm speaking with the right person to guide me.
After completing these jobs, a prospective family now has a firm sense of direction, and begins to actively compare schools in order to make their decision. At the Decision Stage, visits to your website become increasingly frequent and important. Sometimes a person will attempt to complete many jobs while on your website; other times they'll only complete a single task.
Decision Stage jobs to be done might include:
As a __, I'd like to learn more about the school's leadership, teachers, and staff, so I can determine if their credentials, viewpoints, personality, and style are aligned with what our family seeks in educators.
As a __, I'd like to see what "real" daily life looks like beyond the perfectly staged photos on the website, so I can get a better sense of what the day-to-day routine would look like for my child if they were to attend.
As a __, I'd like to take a look at the school in the evening with my spouse and child, so we can get a better understanding of the school's offerings and culture around our family's work schedules, so we can decide if an in-person, daytime visit is an appropriate next step.
As a ___, I'd like to see the campus in person without a school administrator following me around, so I can evaluate the campus facilities, surrounding area, and possible commute without feeling like we're being evaluated or pitched to.
As a ___, I'd like to learn more about the application and enrollment process, so I can properly prepare, budget time, and ensure I meet all deadlines.
As a __, I'd like to understand if there are any benefits to applying early, so I can gain an advantage if space is limited.
As a __, I want to understand how our child's application will be considered, so I can feel confident that the school's culture is open, inclusive, and fair.
As a __, I want to see the full list of college acceptances and selections, so I can determine if this school is well-suited for helping my child get into their dream college.
As a __, I want to see the latest school news or newsletters, so I can get a sense of the community.
As a __, I want to learn what policies and procedures this school has in place, so we can avoid a painful experience we dealt with at our child's current school.
As a __, I want to learn what current students and parents think about the school, so I can get an unfiltered, unbiased view of various aspects of the school we're basing our final decision on.
As a __, I want to schedule a private guided tour of the school, so we can get an extra level of detail and insight we're unable to get by attending online information sessions or browsing the website.
As a __, I want to visit the school with other prospective families, so I can get a better sense of the type of people who want to be a part of this school's community, and whether or not we'll fit in.
As a __, I want to know what I should expect now that we have submitted an application, so we can feel less anxious, and more prepared, about our next steps.
As a __, I want to learn if there are any flexible payment options available, given the limited financial aid, so I can see if we can afford tuition, even though it'll be at the top of our budget.
As a __, I want to learn more about other families whose child will be attending in the fall, so we can start making connections and establishing new friendships to fully engage in the school's community.
As a __, I want to find ways to quickly ask other parents questions, like where to buy uniforms, timing about specific events, etc., so I can get a quick response and take action without having to call the school.
Many of these examples may apply to most of the families your website is intended to serve, but we encourage you to discover jobs on your own by conducting one-on-one interviews in order to find unexpected and surprising jobs to be done.
Once you understand the jobs users are attempting to complete while visiting your website, you can think about how they might "hire" your website—or a specific page or element within that page—to help them complete those jobs. If the page or element doesn't properly meet their needs, they'll probably abandon their visit and go elsewhere.
Identifying Jobs To Be Done
As you might now expect, the best way to uncover jobs is to actually speak with the current families at your school. They can uncover crucial jobs to be done that not only influenced their decision to attend, but also remain enrolled. Hopefully the above exercise also showed possible value in speaking with families who considered your school, but decided to pursue another option. This group can reveal the gaps in your current website design that need to be filled.
When pursuing a redesign project for your school's website, consider reaching out to 3–5 families who submitted a deposit, and are now committed to attending your school. Make sure to explain your objective in trying to improve the experience for prospective parents. Given the recency of their experience, they might be able to offer invaluable advice and perspectives that drive real change in the admissions process. To compensate them for their time and insights, consider offering some free school swag or a gift certificate to a local restaurant.
If interviews aren't an option, installing session recording software on your website might be another avenue to explore. Free tools like Hotjar and Lucky Orange allow you to watch the mouse movement of anonymous visitors on your website. Tools like HubSpot layer in additional information at the contact-level, allowing you to tie visitor activity to actual people you might be communicating with. Viewing these experiences can give you invaluable information, showing you exactly what your users are interacting with on your website. However, while you can easily speculate what task a user was trying to complete, it's missing the clearly defined "why" motivation behind the actions they're taking—information that's typically uncovered in interviews. Despite this tradeoff, these are great places to start and are an excellent alternative versus conducting no research at all.
---
Define Your Website User's Jobs-to-be-Done
Use this worksheet to identify the primary job to be done and the smaller jobs that need to be completed during their visit(s) to your website.
---
The third option is to simply brainstorm and speculate what jobs are being done by prospective families. While this method isn't backed by research, this exercise will force stakeholders involved in the redesign process to anchor their decisions and wishlist items in empathy for the families your website is intended to serve. A brainstorming session may also lead you to very specific questions that you might attempt to answer and validate through future interviews.
Step 1. Make a Copy of the Website Jobs To Be Done Worksheet
We offer a detailed worksheet that's designed to facilitate the brainstorming and gathering of jobs to be done, as it relates to your website.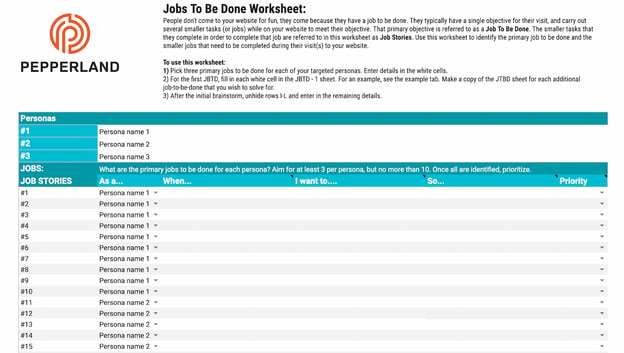 Submit the short form found here to gain access to your free copy.
Once you have the document open in your browser, Click File > Make a Copy.
Rename the document to include your school's or website's name.
Identify the top three primary personas that your school's website will attempt to serve.
For the next step, you'll temporarily set the spreadsheet aside. You won't need to come back to this until Step 3.
Step 2. Interview Your Prospective Student Families
Below are a few examples of the types of questions you'll want to ask prospective parents or guardians during your interviews. Use these as prompts to start a conversation, but avoid sticking to a rigid script. Dig deeper into each response to understand the "why" behind their answers.
Can you remember the first time you thought about switching your child's school?

Dig Deeper: Why was that important to you? How did that experience make you feel?

Tell me about the first time you thought: "We need to start seriously considering other schooling options."

Dig Deeper: Do you know other people who've felt this way? Did they take the same steps you did in finding alternatives?

What problem or dilemma were you hoping to solve when you applied to our school?

Dig Deeper: Were there other schools that could've been potential solutions?

Tell me about your child's old school. Why didn't you decide to simply work things out there and re-enroll?

Dig Deeper: Are you worried that this same issue could occur at our school, and why?

When you applied for your son/daughter, what other options were you considering for them?

Dig deeper: Is there something that we did to make you choose us over these other options?
For more examples and guidance on conducting interviews, check out Chris Spiek and Bob Moesta's book Jobs-to-be-Done The Handbook.
Step 3. Identify the Core Jobs Your Website Needs to Solve
By conducting research, you should now have a firm idea of what parents of prospective and current students are trying to do when they visit your website. Keep in mind that both of these groups' needs, and the type of information they seek, changes at various stages of their journey. Now is the time to capture these observations in a neat, structured way.
Take this research and consolidate the findings into personas. On the first sheet of the tab, enter the nicknames of your three personas that you wish to solve for. Examples might include nicknames like: Prospective Parent Patricia, Re-enrolling Rick, and Concerned Clara.
Then document around three core jobs to be done for each persona. These should represent the primary things they're trying to accomplish when visiting your website, and not the specific steps taken when visiting. Aim to identify at least one job for each stage of the student-family enrollment journey: Awareness, Consideration, and Decision.
These eventually take shape as a "job story": As a… when… I want to… so…
In case you get stuck, we've included helpful tool tips above each column header. Simply hover over the cell to reveal the tip!

When you feel you've identified a sufficient number of jobs, prioritize them using the Priority column.
Step 4. Identify the Steps Taken to Complete a Job To Be Done
Now that you've identified the core jobs your users "hire" your website for, you'll want to dive into exactly how they go about using your website to complete their job. This is the purpose of the second sheet in the document titled JTBD - 1.
You can begin by entering the persona name and the job to be done.

`
Then, enter the success criteria for this job, which includes three subsections: functional, emotional, and social. The functional criteria speaks to the bare minimum requirements of a successful outcome, while the emotional and social criteria speak to why someone is aiming to complete this job.
To tackle this section, simply think about how a user might want to feel after they've completed a visit to your website. Reflect on the conversations you had with the parents at your school earlier in this process. What were some phrases they used to describe how they felt at each stage?

Next, you'll create job stories for each step a user is likely to take in order to complete their core job to be done. Read the STEP section very carefully for more guidance on this. Despite your instinct to immediately dive in, take your time to map out all of these tasks—even the most familiar ones.
All tasks should follow the same structure: Planning according to an identified goal, preparing to act by seeking resources, taking action with the already identified plan and resources, and then monitoring and evaluating the results of those actions. When successful, it's time to move on or even complete the action a second time. Otherwise, it's deemed a failure and the task is completed in a different way. Each visit to a website follows these steps.
Enter a job story for each primary step a user will take while they attempt to complete an overarching goal on your website.

If you find the functional criteria is getting too lengthy, consider if the job story should be split into two.
By identifying these steps now, you'll ensure your future website properly facilitates your users' most important jobs to be done. Every step will now have a well-designed feature that's intended to meet the needs of your users.
Step 5. Brainstorm Solutions
After you have documented a significant list of job stories, unhide rows I–L. You'll use this section to begin thinking of possible solutions to incorporate into your new website design.
These might take the form of modules and objects that your users can interact with, such as forms and calendars, or key sections of information, such as your tuition or key admission deadlines. Giving each idea a name is helpful for holding conversations around the content, especially as you begin to flesh out specific details and requirements for each feature that you pursue in the future.
Putting It Into Action
By completing this Jobs To Be Done Worksheet, you've taken a small, yet significant step in the development of your website redesign strategy. This critical exercise can help you keep your strategy rooted in your user's most important tasks, ensuring that your website acts as a truly useful tool in a prospective parent's enrollment journey.