Written By
Ryan Sylvestre
Creating and hosting a podcast related to your industry can be a great way of attracting qualified leads to your business.
What makes podcasts such a great marketing tool? In addition to boosting your marketing efforts, podcasts can help build better relationships with listeners. When listeners identify a voice, or face with a product they're considering, it creates a stronger connection and ultimately, builds trust.
However, when it comes to developing a successful toolkit for podcasting equipment, it can be challenging for marketers to determine the best and most cost-effective products.
---
Stay Up To Date On All Things Sales, Marketing, & Tech

---
Have you considered starting a podcast, only to become overwhelmed by all of the technicalities involved? Are you unsure of the best microphone to use, or the other equipment you might need?
The good news is there are a range of options that can fit into virtually any budget.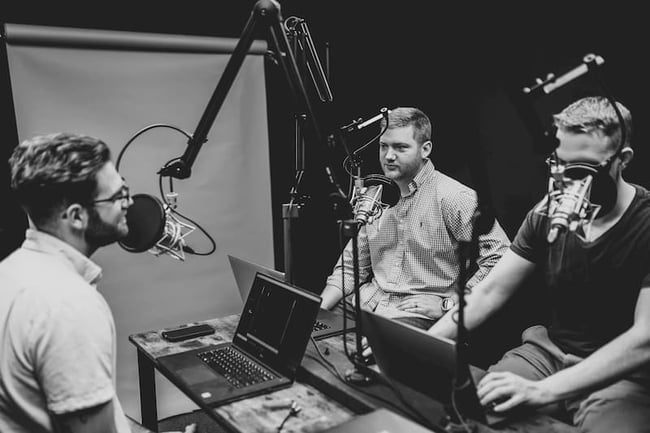 Obviously the more you spend on a product, the higher the value when it comes to audio quality and production. However, as you will read, you don't have to break your marketing budget in order to build a sustainable and effective podcasting setup.
What The Pros Use:
To help you select the best equipment for your needs and finally get started on your own podcast, below we have provided the equipment list that we personally use for our own in-house podcast (The Stack) as well as the equipment setup used by industry experts.
1. The UCONN 360 Podcast
The UConn 360 Podcast is an award-winning, biweekly podcast that aims to bring listeners inside Connecticut's flagship university by telling fun, surprising and unique stories about one of the nation's Top 25 public institutions of higher education.
Co-hosts Julie Bartucca, Ken Best and Tom Breen offer current news headlines, produce feature stories covering faculty research, student life alumni, innovative classes and arts activities on campus. Listeners also journey to the past for "Tom's History Corner," for the events and personalities that show how a small agricultural school evolved into the major research university.
Recent stories include how UConn engineering students got Hartford's iconic Keney Memorial Clock Tower chiming once again, what a dramaturg does for the Connecticut Repertory Theatre and the scoop on the most serious ice cream crisis in university history.
Their equipment list includes:
Microphone: 4 Heil Pro 20 microphones with 6-foot XLR cables
Mixer: A Behringer Xenyx X 1222 USB 16-channel mixer
Mic Stand: 4 Atlas desktop mic stands
Amplifier AKG 4-channel amplifier headphone box
Headphones: 3 AKG K 92 headphones / 1 Sennheiser DH 380 pro headphones
Recorder: 3 Zoom H2n portable recorders with accessory kits (includes handle, wind screen, mic stand, computer cable, and power cord)
Mini Mac computer with Dell monitor
Audio Editing: Audacity recording/editing software
Comrex audio-to IP link for connection to radio stations
Additionally, UCONN 360 uses Zoom portable recorders for field interviews. Their introductory and transition segments are recorded in a studio created within an office, however, they are increasingly using studio space for interviews with story subjects. Innovation is key here, as the recording studio is a former storage room, that has since been soundproofed.
2. Economics for Entrepreneurs
Economics for Entrepreneurs is a weekly podcast hosted by Hunter Hastings focusing all aspects that an entrepreneur will need to succeed. From brand building, to creativity, to negotiation strategies, Hastings highlights the principles of economics to help entrepreneurs start, grow, and manage their business.
The equipment for Economics for Entrepreneurs includes:
Audio Software: Zencastr software on an Apple MacBook Air – this software creates an interview "room" recording the remote guest locally and the host locally. This then merges the two recordings into an Automatic Post Production.
Hosting Interface: Hastings uploads the post-produced in full to the cloud (via Drop Box)
Audio Editing: Enhanced (if necessary through Adobe software)
Microphone: A USB mic from audio-technical (available on Amazon)
Studio Setup: A noise-deadened desk for an in-office studio to reduce/eliminate echo and external noise distractions.
By using Zencastr, Hastings can record remote, studio quality interviews. It's important to note that Zencaster uses a "cloud drive integration" for easy editing and sharing once the podcast has been recorded. Additionally, this software allows for a separate track for each guest, which provides a clear audio connection throughout the duration of the recording(s). For start-up podcasts looking to utilize software for remote interviews, Hastings' setup can provide an excellent example for clear, easy access for recording and storing audio information.
3. The Franchise Academy
The Franchise Academy was recently named the top franchise podcast by Entrepreneur Magazine in 2018. Show host Tom Scarda helps entrepreneurs expand their knowledge about the franchise industry while helping others find the perfect franchise opportunity for their lifestyle. Simply put, The Franchise Academy works to help people fully understand the franchise industry and franchise ownership.
Their equipment list includes:
Previously, Tom used Zencastr (like Economics for Entrepreneurs) to record audio. He notes the software is $20 a month and that it's simple for beginners because it has great capabilities for an advanced audiofile. Additionally, Zencastr makes it easy to use and share links for guests, however, Tom recently switched to Zoom for the ability to simulcast on social media/Youtube when broadcasting. Zoom uses a 'split audio' once everything is recorded to edit and post content. This may be an application for more experienced podcasters, however, an application like Zencastr can help push your podcast at a relatively low cost.
4. Young Smart Money
Apple Crider hosts Young Smart Money, a top 100 business podcast focusing on the contrasts between experiences of startup founders and social media influencers. By highlighting the contrasts between the two, Crider helps people determine which method works best for their own business applications.
Crider said in total, he's spent $100 on his podcast equipment setup. He notes the inexpensive setup receives frequent compliments on the "studio-like" quality as well.
So, what does Crider's setup entail?
Microphone: Blue Yeti USB Microphone
Video Camera: A 1080 USB webcam (Crider invested in the camera in order to repurpose his content across multiple platforms)
Recording Software: Crider uses Zoom (like The Franchise Academy)
Podcast Distribution: Anchor.fm
Anchor provides a hosting service through a one-click, free distribution. Crider notes the cost-friendly software for recording and distribution has allowed for a simple, yet effective overall setup. Through this easy setup, Crider has conducted several interviews to help entrepreneurs choose the right path to start and grow their business.
5. FullCast / Podcast Junkies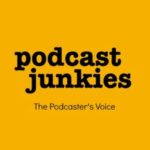 Harry Duran is the founder of Fullcast—a full service podcast production and marketing consultancy. He also hosts the popular show Podcast Junkies, which covers a variety of topics including business, finance, history, and comedy. Duran was also named "Best Podcast Coach" by Best of Los Angeles Awards in 2017. He's worked with other podcasts including Your Business Your Wealth, Zen Money Monday, and Wealthy Wellthy Wise (to name a few).
Duran's pro level set up includes:
Microphone: Shure SM7B
Mic Stand: Heil PL2T Boom Arm (an industry standard that hides cables)
Headphones: Sony MDR-7506 Headphones
However, a more budget conscious set up includes:
Microphone: Samson Q2U microphones
Mic Stand: Samson MBA38 Boom Arm
Headphones: Sony MDRZX110 stereo
Obviously, the "Pro Level" setup requires a heavier price tag than the standard setup, however, both include some excellent ideas for podcasts with varying budgets. For instance, the Shure SM7B Microphone is used by podcast leaders Marc Maron and Joe Rogan, while the Samson Q2U microphone provides a cheaper option, but includes a good, dynamic setup with a foam windscreen. Additionally, Duran has provided an extensive list of equipment used for Podcast Junkies, which includes mobile and intermediate setups.
6. The Stack
The Stack is our weekly show that shares and discusses the latest trends, news, and content from the world of marketing, sales, and tech. In addition to providing audio for each show, we also provide show notes with links into any articles or tools mentioned during the broadcast.
When it comes to equipment, this is our setup:
Audio Interface: Focus Scarlette 18i8
Audio Editing: Adobe Audition
Audio Hosting: SoundCloud
Dell Laptop (standard computer with latest Windows update)
This setup works for our operations, however, your setup may vary depending on the logistics and capabilities of your studio or recording space.
Have Your Voice Heard
As you can see, there are plenty of options when it comes to choosing the proper setup for your podcast. There are, however, a few indispensable items you'll need in your podcasting toolkit regardless of budget.
As Kevin Lockett, the author of The Digital Handbook 2020 says, "A trusty digital recorder can be your best friend if you conduct in-person interviews for your podcast."
He adds, "Any Zoom digital recorder is a must if you want to make a podcast that sounds like a nationally syndicated show."
Apple Crider mentioned earlier that his setup was relatively inexpensive, costing less than $100, yet he consistently gets positive feedback on the audio quality of his show. This further proves that that advances in technology and software platforms have led to more options when selecting the proper equipment for your show.
In the end, podcasts provide an invaluable asset to businesses because they give your company another avenue to connect with customers. Through the power of audio, or in some cases video, your customers have another reference when it comes to considering your services and products. This allows for greater customer satisfaction, retention, and ultimately, can provide an outlet for both you and your customers to connect on a more transparent, human level.