Written By
Michael Boyles
Content marketing is an exciting field that's rapidly growing, and with the recent surge in hybrid and remote jobs, opportunities abound for prospective content marketing specialists. If you're looking for a position in CT, or with a company based in CT, there are several options to choose from based on availability and your desired industry. This article will cover:
What a content marketing specialist is
Examples of employers hiring content marketers in CT
How to become a content marketing specialist
7 Employers Hiring Content Marketers in Connecticut
Content marketing specialists are responsible for the creation and distribution of a company's content. They play an essential role in building up a website's domain authority and ensure that a company's content is interesting, relevant, and discoverable.
Remote work is becoming increasingly commonplace, but not everyone thrives in that environment. For some, an in-person or hybrid setting is preferred. Finding the right job in that situation could be difficult, since there aren't as many options.
It's important to note that not every company on this list is actively looking for content marketing specialists, but each has historically hired them, so it would be worthwhile to take some time connecting with each company or staying updated on their latest job opportunities. Many employers have email alerts you can sign up for to notify you if a relevant position opens up.
According to data from Lightcast, these 7 companies from a variety of industries have either previously sought out or are actively searching for content marketing specialists in CT.
1. Ethan Allen
Ethan Allen is a furniture and interior design company based in Danbury, CT. They offer a wide range of opportunities from manufacturing to design to marketing. Their career page explains that they look for employees who are passionate about style and design, are committed to excellence, and possess strong communication skills.
As of July, 2022, the company has an overall employment rating of 3.2 out of 5 stars on Glassdoor, with many professing it as an excellent place to work, and others stating it overpromises on benefits and doesn't deliver. However, the reviews from employees of their corporate HQ in Danbury, the reviews jump up to a 4 out of 5 star rating.
Ethan Allen offers occasional remote or hybrid opportunities, depending on the position. As of July, 2022, they aren't actively seeking a content marketing specialist, but that doesn't mean it isn't worth reaching out and putting your resume in front of them.
2. Legrand
Legrand operates in the appliances, electrical, and electronics manufacturing industry. They produce a wide range of electrical and network infrastructure products. Their U.S. HQ is located in West Hartford, CT. Their career page expresses that they're searching for innovative and creative individuals with enthusiasm, drive, imagination, and ingenuity.
They offer remote and hybrid work settings for some positions, but some are in-person only. As of July, 2022, they have obtained a 3.7 out of 5 star rating on Glassdoor, with many expressing that it's a great place to work and offers excellent benefits, while others criticize the corporate culture. The vast majority approve of the CEO, however, and the company has historically been rated highly on Forbes' list of top employers.
They aren't currently hiring for a content marketing specialist on their careers page, but have been known to do so in the past.
3. The Village
The Village is a civic and social organization committed to supporting children and families in the Greater Hartford area. They offer a wide range of services including behavioral health, substance use treatment, and early childhood and youth development.
The company has a 3.2 out of 5 star rating on Glassdoor as of July, 2022, with some reviews expressing that it's a positive place to work, some complaining about being overworked, and others expressing that it depends greatly on the department. They have received several awards commending their work environment, however.
The company isn't currently seeking a content marketing specialist, but have previously hired them, so if you're hoping to make a positive difference in others' lives while pursuing your passion of content marketing, it might be a great company to connect with.
4. FactSet Research Systems
FactSet is an international IT services and consulting company. Their American headquarters is located in Norwalk, CT. They create financial data and software solutions for investors, providing access to data and analytics tools to assist in their decision-making.
As of July, 2022, the company enjoys a 4.0 out of 5 star rating on Glassdoor, with most commending the company's work/life balance and benefits, and some expressing concerns that the salary is too low. The company allows employees to decide whether to work in-person, remotely, or in a hybrid setting.
The company isn't actively seeking a content marketing specialist, but frequently posts new jobs to their careers page, so if this company sounds like a good fit, it would be worthwhile to introduce yourself and keep an eye on their career opportunities.
5. Clarus Commerce
Clarus Commerce, headquartered in Rocky Hill, CT, is an engagement agency that helps commerce companies build loyalty programs. Their career page states that they prioritize employee growth and work/life balance.
This is reflected in their Glassdoor rating, which, as of July, 2022, is 4.7 out of 5 stars with 100% approval of the CEO. The company also offers flexibility of schedule, with the option to work remotely on occasion - although some positions require a certain number of office visits per week.
There are no open content marketing positions, but the company has hired content marketing specialists in the past and encourages applicants to send over their resumes regardless of whether their desired position is open or not.
6. Rollease Acmeda
Rollease Acmeda's US division is based in Stamford, CT. The company specializes in designing and manufacturing indoor and outdoor window shade systems. Their career page explains that they look for qualities such as innovation, respect, passion, customer focus, and action-orientation in their employees.
The company has a 4.2 out of 5 stars Glassdoor rating as of July, 2022. Employees working from Stamford, however, give it 5 stars. Some careers are offered remotely, but several require Connecticut residency at least.
Once again, there are no open content marketing job postings, but the company has a talent community that allows prospective employees to get notified when new positions come available, and the company has hired content marketing specialists in the past.
7. Pepperland Marketing
We're a marketing agency based in Cheshire, CT. Our focus is inbound marketing, and content plays a large role in an inbound marketing strategy. We value curiosity, creativity, innovation, integrity, passion, and persistence, and look for those qualities in prospective employees. We do our best to facilitate individual growth, work/life balance, and a positive, friendly culture.
As of July, 2022, we have a 5 out of 5 star rating on Glassdoor. Our positions are remote, with access to our office space in Cheshire, CT.
We're regularly seeking content marketing interns to join our team - a position which often leads to a full-time role as a content marketing specialist. Check out our career page to see what opportunities are currently available!
Know Where to Start
If you're wondering how to become a content marketing specialist, here are some tips to get you started: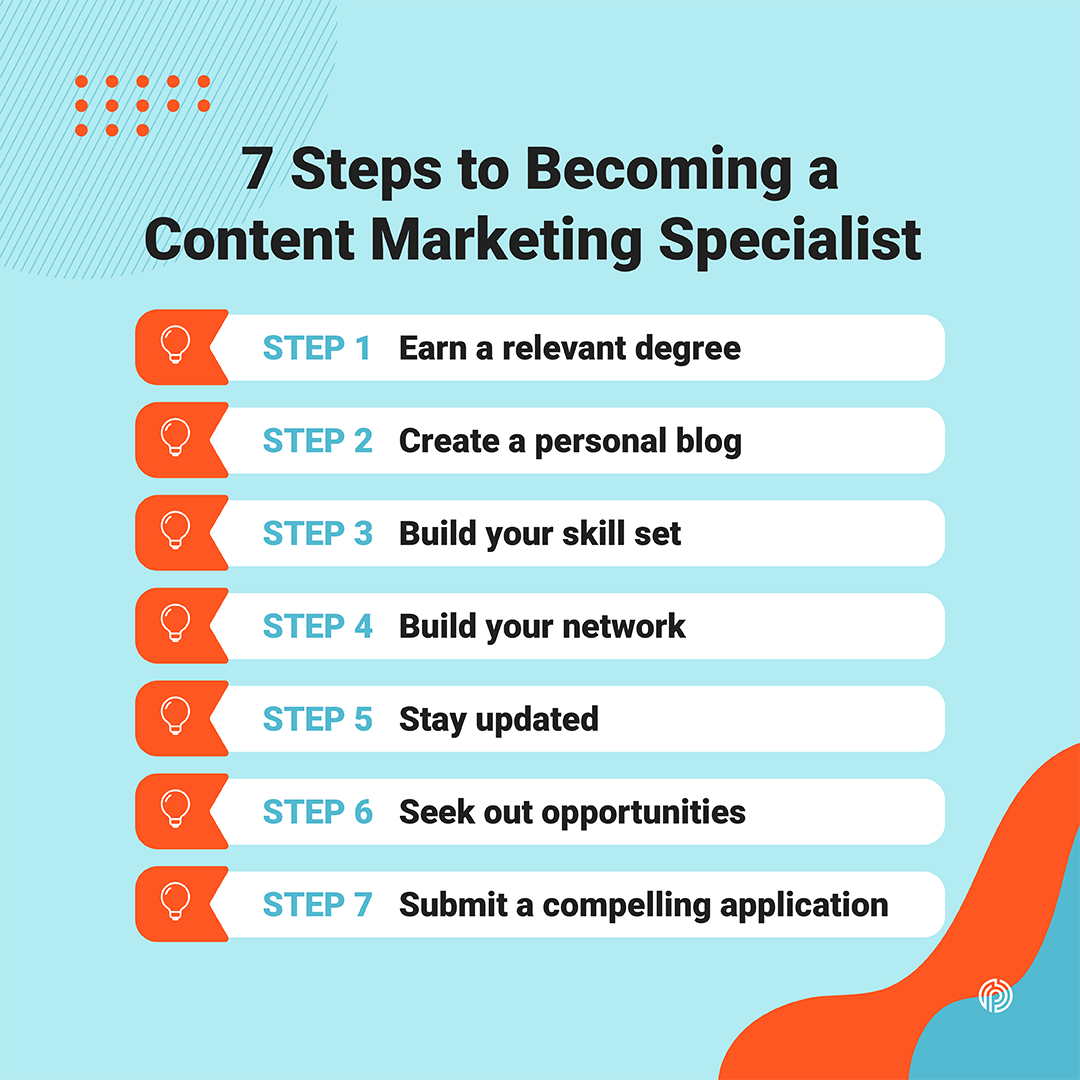 Earn a bachelor's degree: Whether you're majoring in digital marketing or not, many companies will be willing to consider you. As long as you have a positive attitude and strong writing and organizational skills, you probably don't need a specific degree in marketing.
Create a personal blog: One way to set yourself apart is to write a personal blog to showcase your skillset and build up your portfolio. And if you can rank for a few keywords, all the better!
Develop your skill set: Continuous improvement is a highly valued attribute among employers. Keep working on building your content marketing skills like search engine optimization and social media so you're able to include them on your resume!
Build your network: Whether a company is actively hiring content marketers or not, it's always a good idea to work on developing your network.
Stay updated on marketing news and trends: Subscribe to marketing blogs, listen to podcasts, follow marketers on LinkedIn - you get the idea. Staying updated in the marketing world is a great way to demonstrate your commitment to the field.
Seek out opportunities: If you're having trouble finding a job, use that time to your advantage. Try to seek out volunteer opportunities with local businesses, churches, or schools and offer your marketing services.
Submit a great application: Do your research before applying, and make sure your resume looks clean and professional. This will go a long way in helping you stand out from other applicants.
Consider a Content Marketing Internship
Internships are a great way to get your foot in the door at a company. They provide great resume-building experience, and can land you a full-time position when your internship is complete. At Pepperland, we also compensate our interns, so you're able to earn money while building your portfolio. If becoming a content marketing specialist is something you're interested in, consider taking a look at our career opportunities to see if there's a role that fits your skills and interests!