If you're starting your very first podcast (like tons of other people) figuring out how to get on all the major platforms can be tricky. iTunes is one of the leaders in podcast distribution so naturally, many podcasters start by getting their show featured on their network.

In order to get on iTunes, you will need to pick a podcast hosting service. This will help you distribute your content to iTunes and other podcasting platforms. Popular podcast hosting companies include:
SoundCloud
Podbean
Simplecast
Transistor
BuzzSprout
For the purposes of this tutorial, we will be walking you through the steps of how to get your podcast on iTunes using SoundCloud as a hosting company.
How to get your podcast on iTunes:
Step 1. Record your first podcast episode.
Once you've picked a podcast hosting service, you'll need to record your first episode. In order for iTunes, and other platforms, to review and accept your podcast RSS feed, they need to review your content. iTunes has certain requirements in order to validate your podcast, but following these steps should help you get your podcast live as fast as possible.
Depending on what software you use to record your podcast episode, you may need to convert your file into an MP3. Once you have the MP3 file ready, go to step 2.
Step 2. Upload your episode to your podcast hosting company.
Whether you use SoundCloud or another popular hosting company, the upload process will be similar. For this tutorial, we will walk through the steps for uploading to SoundCloud.
How to upload an MP3 to SoundCloud
1. Log into Soundcloud
2. Click the upload button
3. Drag and drop or upload your MP3 file to the upload screen.
Step 3: Make sure to fully fill out the episode details
1. Fill out your episode information. Make sure to provide as much detail as possible on the "Basic Info Screen" and "Metadata Screen". This helps iTunes categorize your podcast.
2. On the "Permissions" tab, make sure the "Include in RSS Feed" is checked. This will ensure your episode is view-able by the iTunes review team.
3. Click save.
Step 4: Locate your RSS feed URL
Your RSS feed is the key to getting on any podcasting platform. RSS stands for "Really Simple Syndication". It collects all the data you enter about your episode/show and distributes it through a URL.
How to find your RSS feed in SoundCloud.
1. In the top right-hand corner, click the three dot button and find "Settings".

2. Toggle to the Content Tab and find the RSS Feed URL.

Step 5: Submit your RSS Feed to iTunes.
Submitting your RSS feed to iTunes might take a few tries depending on your review process. It's important that the episodes included in your RSS feed are professionally done so you can ensure iTunes accepts your show.
How to submit your podcast to iTunes:
1. Download and create an account on iTunes.
2. In the top left-hand corner, toggle to "Podcasts"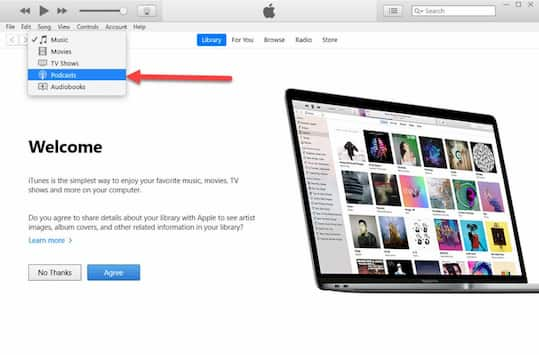 3. Find "Submit a Podcast" in the right-hand column
mg src="https://pepperlandmarketing.com/wp-content/uploads/2020/01/Submit-a-podcast-768×506-1.jpg" alt="Submitting a Podcast" class="wp-image-8771″/>
4. This will open a new window in your browser titled "iTunes Connect". Log In with your apple I.D.
5. In the top left-hand corner, toggle to the "My Podcasts" tab and click the plus button to add your podcast.
6. On the next screen submit your RSS feed.
If you get an error message when submitting your RSS feed, you'll have to fix it before iTunes will begin its' review process. You can check your RSS feed before submitting it by using Podcase's podcast validator.
Step 6: Wait for iTunes approval
iTunes manually reviews every podcast submission so getting your show approved may take a few days to a week. You will receive an email if there are any issues with your submission or content. You can check on your submission status by logging back into Podcast Connect.
During this validation period, you can continue to upload and plan out your promotion plan so you can hit the ground running when you eventually show up in iTunes.
Step 7: Plan out your podcast promotion
Are you going to include video? Are you uploading to YouTube? Are you creating a blog post with each episode? Are you posting on social media?
These are the questions you have to ask yourself when thinking about how you're going to grow your audience.
You're not done yet…
Getting your podcast on iTunes is the easy part. Building up an audience and reaching new people each week is the hard part. In order to do this, you have to have a clear value proposition, connection to your audience, and a clear differentiator.
Planning out an effective marketing and promotion strategy is key to building awareness around a brand new podcast. Here at Pepperland Marketing, we help our clients generate more leads and increase your reach by launching effective podcast campaigns.