It's beginning to sound like a broken record in education enrollment: numbers are down. Census data has long warned of a decline in the school-aged population, but little has been done to combat it. School enrollment under the age of 35 is at its lowest level in over 20 years. But what marketers couldn't predict was the COVID-19 pandemic and its impact on education as a whole.

These declining trends, coupled with an expected transition to online/hybrid learning, show us that the need for strategic marketing initiatives has never been greater. In fact, the National Association of Independent Schools reported a net enrollment growth of 1.7 percent over the two pandemic years. So what's causing this plateau?

In this article we'll discuss how enrollment insights can be gleaned from an analysis of website traffic and online engagement. You'll more learn about:
What the 2021 Niche PK-12 education website benchmarks are
How to fix the decline in online engagement
How to get enrollment numbers up
2021 Niche PK-12 Education Website Benchmarks
Niche is one of the leading resources of data and reporting in the education industry. Their insight enrollment sector focuses on analyzing the various datasets schools can track to address their enrollment trends. For the purpose of this article, we'll reference the data and findings from the 2021 Niche PK-12 Education Website Benchmarks webinar.
Overall Website Traffic
When looking at the overall website traffic for PK-12 schools, the trends appear to be the same across the board: engagement is down, but new users are up. Public PK-12 schools all saw decreases in traffic, while traffic increased for private PK-12 schools. This increase may not necessarily be a testament to how effective these schools' website strategies are, but rather the growing number of parents who are interested in their children pursuing alternative education.

Beyond traffic, Niche also reported that "bounce rates increased slightly across the PK-12 segment, with public middle schools and high schools pulling up the average." Page load times also decreased slightly across the board. Looking at the chart below, it isn't surprising that the schools with the highest page load times also have high bounce rates. After all, who wants to wait more than 3 seconds for their page to load?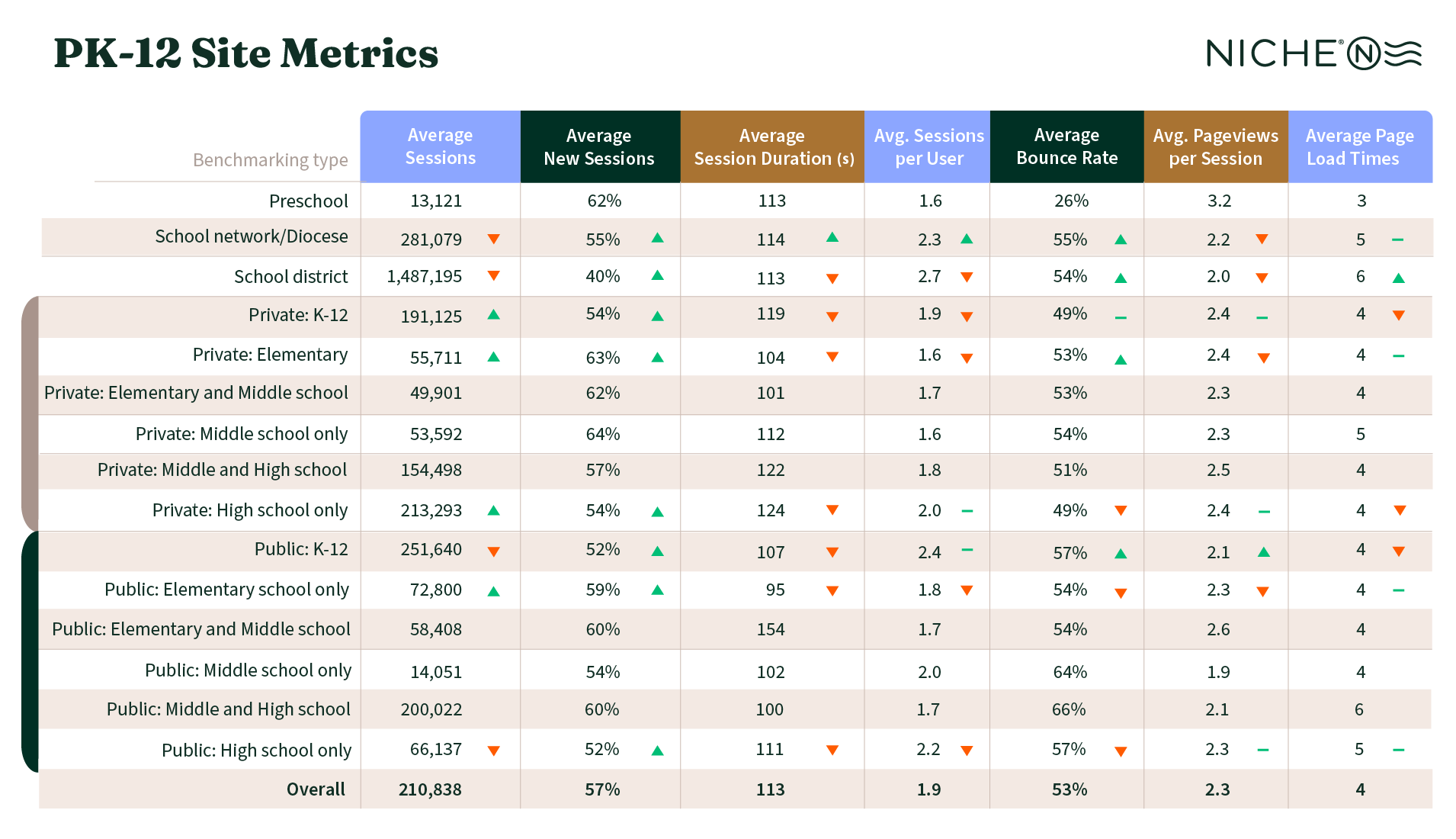 Source: Niche PK-12 Site Metrics
Organic Search Traffic
Organic search saw some major wins in 2021, specifically with an increase in public school website traffic. According to Niche's webinar, "the most significant increase came from Google, with an average of more than 12,000 additional sessions." This isn't too surprising when looking at how many parents take on researching educational options for their children through Google nowadays.
Even though this all seems promising, there has been a huge decrease in average sessions and session durations for school landing pages, regardless of the search engine visitors used to get there. So although prospective students and their families are landing on the website, they aren't staying engaged once they've arrived. Education marketers need to be mindful of this decline since it drastically affects their website conversion rate.
Take a look at the chart below to see the other increases and decreases in organic traffic.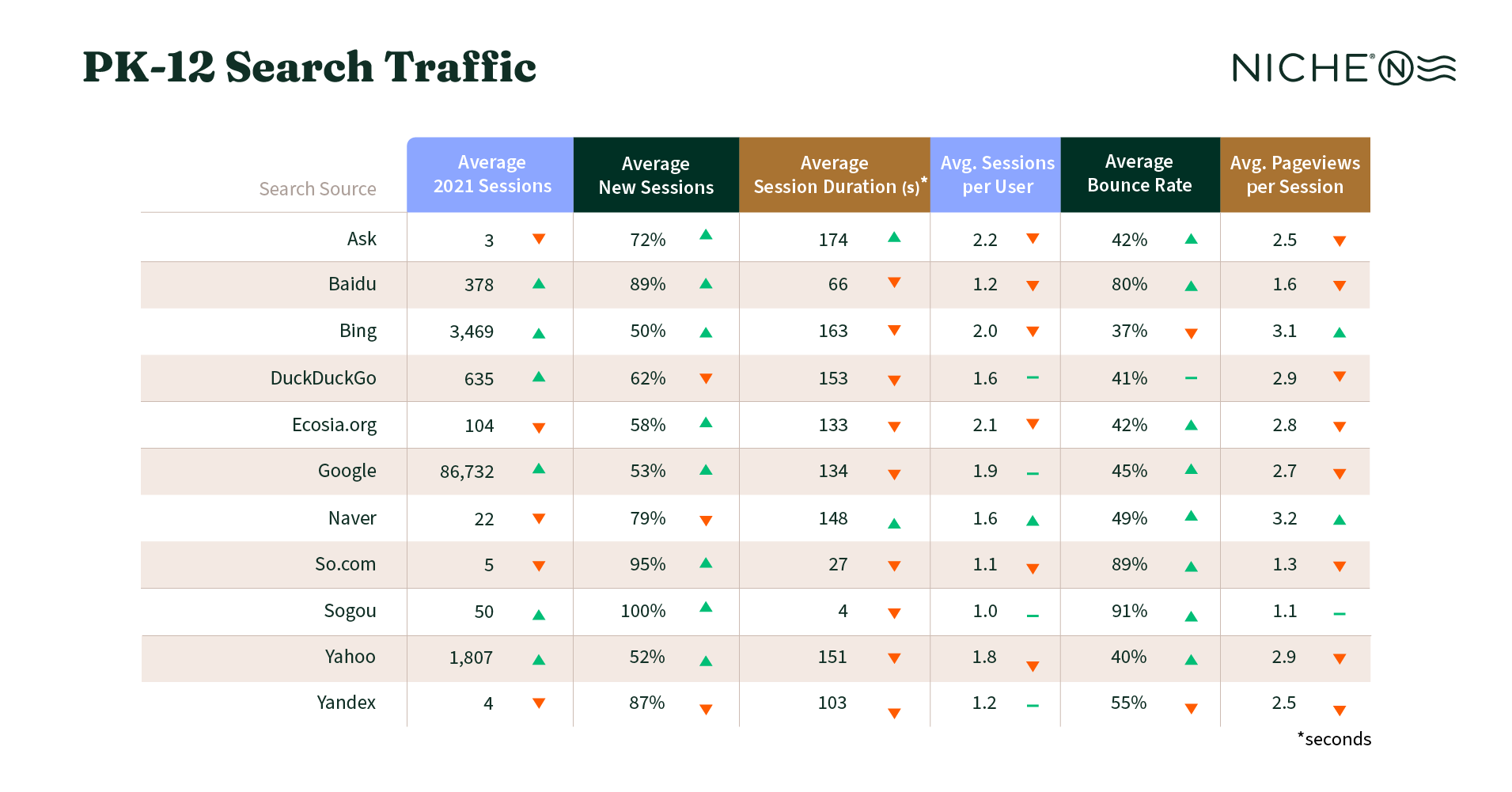 Source: Niche PK-12 Search Traffic
Recommended Reading: 5 Website Must-Haves to Attract Organic Traffic
Organic Social Media Traffic
For years PK-12 schools have heavily relied on organic traffic from social media platforms, but Niche found a 59 percent decline in organic reach from Facebook. This is really concerning for many schools who use Facebook as their main form of social media outreach to both current and prospective students.
It's difficult to discern what platform schools should leverage more in their marketing campaigns based off of these numbers alone. While Facebook did see a decline, it's still the biggest traffic driver for PK-12 schools. Website users from Instagram declined, but also had the longest page sessions. No matter what path enrollment marketers choose, social media strategy in education is in need of a major revamp.
See how social media platforms performed in enrollment marketing in 2021.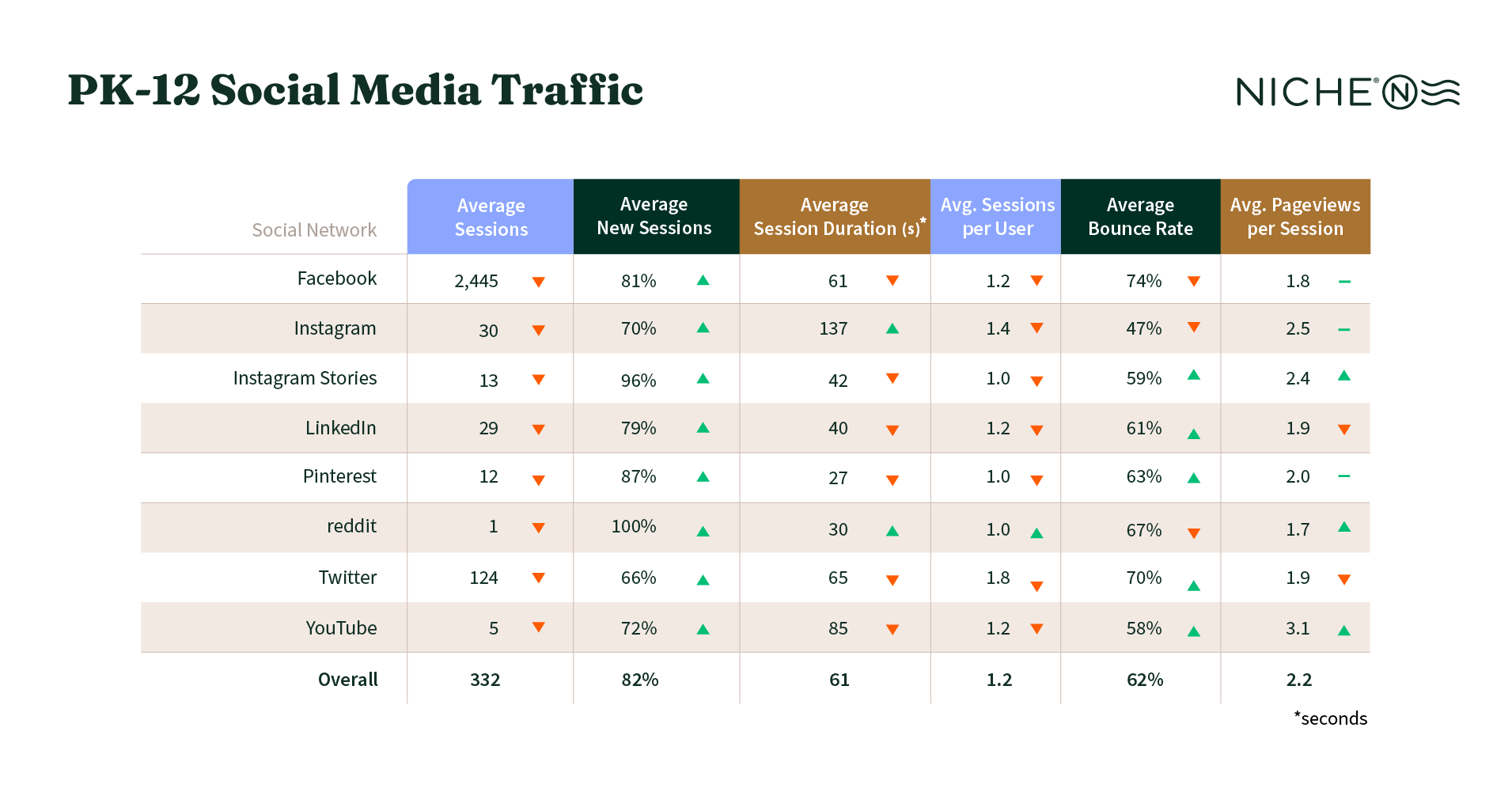 Source: Niche PK-12 Social Media Traffic
Recommended Reading: 8 Common Social Media Mistakes [And How to Avoid Them]
Paid Traffic
Public PK-12 lost some ground in paid traffic, while private PK-12 schools saw an increase. Just like every facet of website traffic, there was an obvious increase in new users, but not engagement.
The increase in new sessions might be a result of the higher spending on paid ads, specifically Google Ads. According to Niche's website benchmarks, "average spending on Google Ads increased the most in the public PK-12 segment, by nearly 2,600 percent, which pulled the average spend across segments up to nearly $250,000."
Take a look at the chart below to see if an increased budget effectively converted to clicks.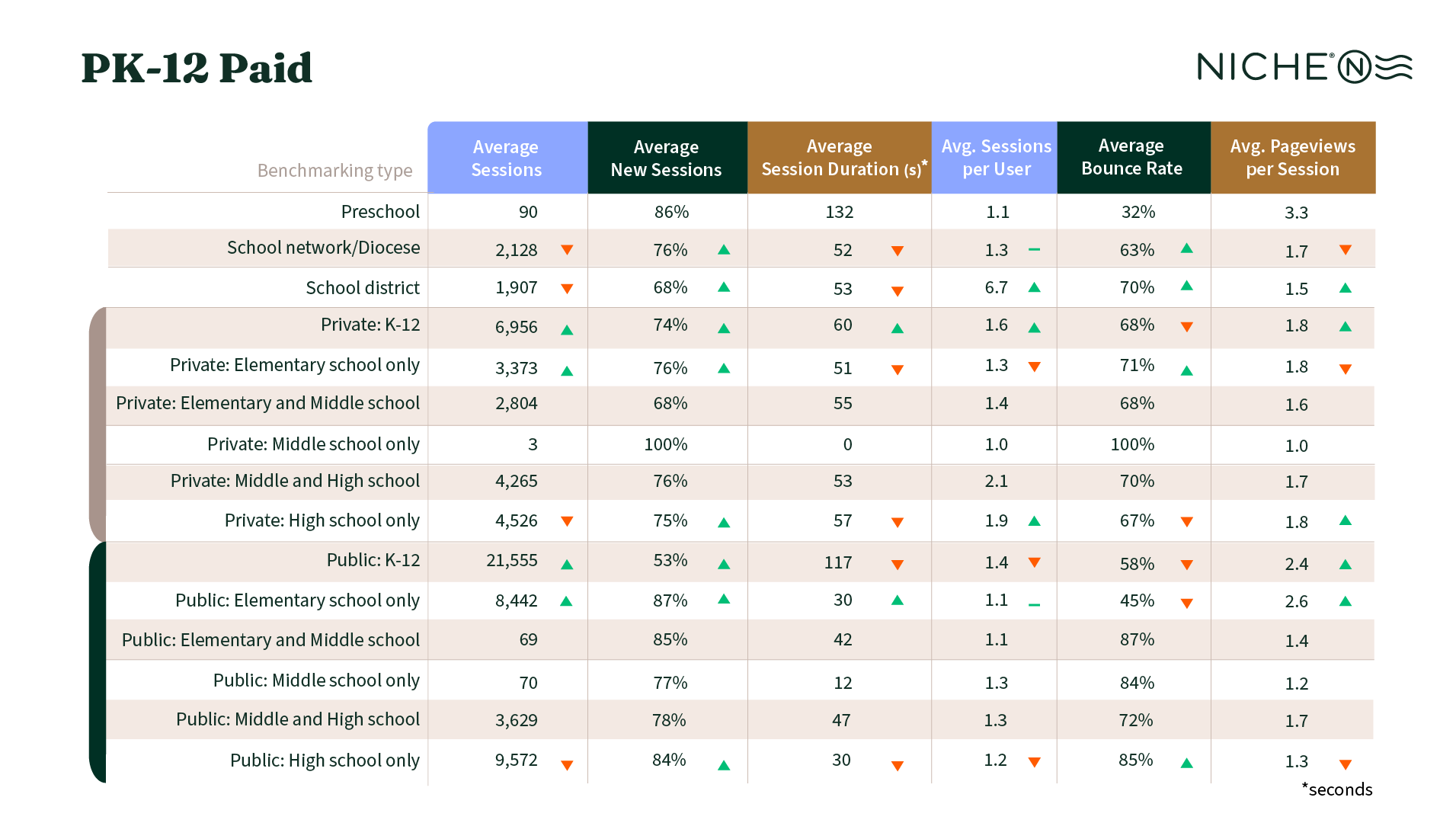 Source: Niche PK-12 Google Ad Results
Recommended Reading: Importance of Having a Facebook Ads Conversion Funnel
---
Want to see if a shift in your marketing strategy can increase enrollment numbers?
---
How to Fix the Decline in Your Online Engagement
What's the main takeaway from the 2021 Niche PK-12 education website benchmarks? A high bounce rate is killing online engagement! Alyssa Brown, Senior Enrollment Insights Leader of PK-12 at Niche, identifies this as a major problem for enrollment marketers in her podcast about the 2021 website benchmarks.
"Traffic is only helpful if you can keep people on your website," Brown asserts when talking about the challenges enrollment marketers are facing. "The declining online engagement shows us that we need to shift the way we think about content strategies [in educational marketing]."
Here are a few things you can do to combat these declining numbers.
1. Take a look at your Core Web Vitals
Similar to how people go to an annual doctor checkup, a website's health should be consistently monitored. Running a Core Web Vitals report shows how healthy your website is through measuring its performance in page loading time, user experience, and stability.
Once you have the vitals report on your website, you can identify its strengths and weaknesses. If you're suffering from a high bounce rate, you're likely dealing with slower page loading times, but your report will confirm if this is the case. If website page speed is in fact the problem, there are a few things you can do to combat this.
Consider optimizing the photos and videos on your website. While these elements are important to your school's brand, they can potentially hurt your page loading time when there's too many. This doesn't just mean deleting images, but also making sure they're sized properly. One of the most common mistakes made by school websites is large images. Reducing the size and quantity of images will definitely have a positive impact on your website loading time.
And don't forget about how your images interact on a mobile device! Prospective students and their families absorb a large amount of information through their phones. Keep mobile design and experience in mind when creating and optimizing your website.
Recommended Reading:
2. Properly leverage internal linking
Every piece of content that users click on is an opportunity to guide them through your website. Too often enrollment marketers are focused on getting new users to their website and forget to provide a path to more of their content and offerings. This is definitely evident in Niche's 2021 PK-12 Education Website Benchmark findings.
Get rid of these dead ends by properly leveraging internal linking. One example of this is blog posts that include hyperlinks to other content you've created. This keeps your users on your website, while also providing them with valuable information.
Another form of internal linking is a call to action (CTA). These are offerings attached to articles/blogs, landing pages, and more. The most effective CTAs always have active verbs and concise language. This creates a sense of urgency for your reader to take action and stay engaged in your website.
Recommended Reading:
3. Do an SEO audit
Much like running a Core Web Vitals report, completing a search engine optimization (SEO) audit is essential to the success of your website. Some aspects of website optimization you should evaluate are:
Using keywords: Keywords are topics/phrases that searchers are regularly entering in a search engine. This can help with organic traffic, but also ensure your content answers users' questions. Prospective students and their families are more inclined to stay engaged with your website if the topics presented are relevant to them.
Ensuring your website is crawlable: Crawling refers to Googlebots visiting new and updated pages in order to add them to the Google index. If the bot has a hard time reading your website, your rankings will be negatively affected. Googlebots may not be able to read your website if there are 404's, unavailable pages, and misused heading tags. Some components that make your website more crawlable are meta descriptions and alternate (alt) text for images.
Optimizing off-site parties: Make sure that your school is properly optimized on third-party websites like review forums and your Google Business Profile. Reviews, especially positive ones, show Google that your company is trustworthy. So consider reaching out to your community and encouraging them to share their experiences online.
Recommended Reading:
4. Shift your social media strategy
"Social media has historically been used for community building and retention, but it can also be used as a strategy to drive traffic," says Brown. With this in mind, a shift in strategy is essential to meeting the new goal of social media engagement. Here are a few ways you can properly leverage social media for your school website:
Offer a downloadable offer
Provide links to articles and blog posts
Promote events through editable registration forms
Post less (quality over quantity)
Recommended Reading:
5. Offer something useful to your viewers
This is probably the most important piece of advice when it comes to online engagement. "It all comes down to the offer," says Brown. "You want to give your users a reason to click around." There are a number of ways to do this, but providing a clear path to a landing page is the most effective.
A landing page is a web page that users land on after clicking through an ad or other digital linking, like a CTA. This is where you can position yourself as a resource and offer users a product or service. For these pages to be effective, however, you need to make sure the paths to the landing page logically relate to one another. One of the biggest reasons for a high bounce rate on a landing page is a disconnect in the story you're telling your users. If a prospective student clicks on an ad about SAT scores and is brought to a landing page offering a financial aid guide, they're more likely to leave, and possibly never come back.
Recommended Reading:
Get Enrollment Up!
While there are many reasons for a plateau in enrollment numbers, website engagement is a growing factor in this field. Schools need to take a hard look at their website performance and make the changes needed for longer session times.
Even with these tips, it can be overwhelming to do a complete website rehaul. Consider partnering with an agency with SEO expertise in the education sector, like Pepperland Marketing. Schedule a free inbound marketing assessment and see what steps you can take to get your enrollment up!