Written By
Tim Stobierski
If you're a marketer, then you've probably been tracking your organic search keyword rankings for as long as you can remember.
Even though things are starting to change with a shift towards topics over keywords, your boss probably still wants to hear about your keyword rankings as a measure of your SEO efforts, and will continue to do so for the foreseeable future future.
As such, it's critical that you have access to a keyword research tool and rank tracker that gets you the insights you need in order to craft an effective marketing strategy for your company. Though the precise terminology used will differ from tool to tool, and though not all tools will provide all of these metrics, some of the most important metrics that keyword tracking tools can provide are things like:
Current Rank, which tells you how your ranking in a specific geographic location for that exact match term
Monthly Search Volume, which tells you how many search queries are done on a monthly basis for specific search terms
Difficulty, which tells you how much work you'd likely have to put in to outrank the current ranking websites
Opportunity, which tells you how valuable the keyword can be for your overall marketing efforts
Cost-per-click (CPC), which gives you a sense of how much you would need to pay, per click, to advertise for a certain keyword, allowing you to understand your impact on budget
Priority, which takes all of the above factors and uses them to help you gauge which would provide the most benefit for your efforts
As with most tools, most marketers have their favorite keyword tools to use. Usually that preference boils down to things like cost (does it fit within your budget?) or the specific data that it spits out (does it provide you with the metrics that you need?). But sometimes which tool you use ultimately depends on what other tools you use.
For example, if you are a HubSpot customer, you probably use the HubSpot keyword tool to conduct your keyword research. You're already using HubSpot to manage your contacts, schedule and publish to social media, build landing pages and forms, write emails, and generally manage your inbound marketing campaigns. Why wouldn't you use the keyword tool that is built right in? It only makes sense that you'd want to keep everything in one place if you can.
HubSpot Keyword Tracking and Content Strategy
Unfortunately, you soon won't be able track keywords within HubSpot anymore, because they will be "sunsetting" the keyword tool on May 30, 2018.
HubSpot suggests that their new Content Strategy Tool be used as a replacement for their keyword tool. Through the tool, users are able to identify pillars and topic clusters around which they will build the content that powers their marketing efforts. HubSpot believes (and we also believe) that following a pillar strategy is a surefire way to boost your performance in organic search, since it helps to create content that both users and search engines want to see.
But shifting to a topic-centered approach means that you will be relying a little less heavily on keywords. Yes, they're still important, but a little less so: Since owning a topic will help you naturally rank well for important keywords, your focus should be creating great, valuable, authoritative content and less on optimizing your content for specific keyword variations.
The Content Strategy Tool helps you to organize your content according to your pillars and topic clusters. If you need suggestions, the tool will suggest topics based on relevance, competition, and popularity, in a sense replacing the functionality of the keyword tracker.
Though we see a lot of value in following a pillar strategy, we also know that it isn't necessarily something that every company will want to follow. For marketers who are not yet ready to give up their keywords, we've pulled together this list of keyword research tools that you can use to replace the one soon to be retired by HubSpot.
Google Search Console is, really, the place that all marketers should start when it comes to tracking the keywords that your site is ranking for, for a couple of reasons. For starters, it's free. And beyond that, it is pulling the data straight from the source: Google. You don't get much fresher than that.
To see what keywords your website is currently ranking for, all you need to do is navigate to the Search Analytics report and sort by Queries (you can also view by Pages, Search Type, Dates, and other criteria).
In addition to listing out the specific queries that you are ranking for, you can see how many clicks each query has brought to your website, how many impressions you've received in search, the CTR for each term, and your current position. And you can of course export this into CSV or Excel for your needs.
Or you can skip Excel all-together and use the kick-ass Search Console template we created on Databox, which you can use for free.
Through Google Search Console, you can also drill down into the links pointing to pages on your site, how you are linking internally, run tests, and submit URLs to Google for crawling. Search Console goes well beyond rank tracking, identifying all of the issues Google encountered while crawling your website's content. Resolving those issues can lead to dramatic increases in your organic rankings and traffic.
Moz Pro and its included keyword research tool, Keyword Explorer, are a great solution for your keyword research and rank tracking needs. With it, you can see what keywords a root domain or exact page on a website is ranking for (which is great for competitive analysis) or you can conduct keyword research by searching for a specific search query.
When searching for a specific keyword, the tool will give you a quick snapshot of monthly volume, difficulty, organic CTR (opportunity) and priority. Tracking your keywords is as easy as creating a keyword list, selecting your keywords, and adding them to your list, which you can then export whenever necessary.
The tool will also supply a list of keyword suggestions, which you can drill down into to find the best variations that you want to target, and a SERP analysis showing the current average search engine results for the query, which can help you determine the effort it would take to unseat the current top ranking keywords.
Once you have selected the keywords you wish to target with optimization efforts and content creation, you can track your rankings for those keywords over time as a part of a campaign.
Pricing options range from a low of $99/month to a high of $599/month, depending on how many campaigns you need to build and how many other features you'd like access to.
The keyword research tool offered by SEMRush isn't the easiest to use in terms of user experience: Navigation and user interface simply aren't the most intuitive to use. That being said, the information that the tool provides is high quality and valuable.
In addition to showing you important information on monthly search volume, CPC, and competition, the tool supplies:
CPC distribution
Phrase Match Keywords (and the volume, CPC, and SERP for each of those) so that you can drill down and find the best variation to target
A list of related keywords
Organic search results
Sample ad copy
As with Moz, you can build and export the reports that you need at will to inform your marketing efforts, and track your rankings over time through their Projects feature.
Pricing plans range from a low of $99.95 to a high of $399.95, depending on your specific business needs.
Ahrefs has quickly risen to become one of the tools of choice amongst the SEO community. It offers a powerful suite of SEO solutions, including keyword research, crawling, rank tracking, and link building tools.
The Ahrefs keywords explorer tool functions in much the same way as the Moz keyword explorer: It allows you to generate keyword suggestions, perform an in-depth analysis of a specific keyword, and pull metrics for your custom list of targeted keywords.
When you use the tool to search for a specific keyword, it provides you with a number of metrics including difficulty, monthly search volume and return rate, clicks (broken down by paid vs. organic clicks), global search volume, keyword ideas, and SERP history.
Drilling into the keyword suggestions will provide additional information like CPC, phrase match, search suggestions, and a feature called "also rank for" which allows you to see what other keywords the top-ranked pages are also ranking for (great for competitor analysis).
A feature that sets this tool apart is the ability to include multiple "seed keywords" (up to 10) to run a single combined report.
Pricing ranges from a low of $99 to a high of $399 depending on your needs.
SERPs offers a free keyword research database tool that will pull the volume, CPC, and aggregate "value" of the keyword that you are searching for, which you can then export to CSV as needed.
Though it isn't the most comprehensive tool in terms of the metrics that it provides or the number of keyword suggestions that it produces, it can be a good tool for companies with small marketing budgets (since its free).
For more in-depth metrics and the ability to track additional keywords, you'll need to opt into a subscription. Prices on the paid subscriptions range from $49 to $99 for small businesses and agencies and higher for enterprise business.
KWFinder is a keyword tool offered by Mangools. If you enter a specific keyword into the tool, you will receive the keyword's difficulty, monthly search volume, and a SERP analysis that includes things like domain authority, page authority, Moz Rank and Trust score, the number of backlinks that the page has, the number of Facebook shares it has received, and a few other data points, making the tool really great for competitive analysis.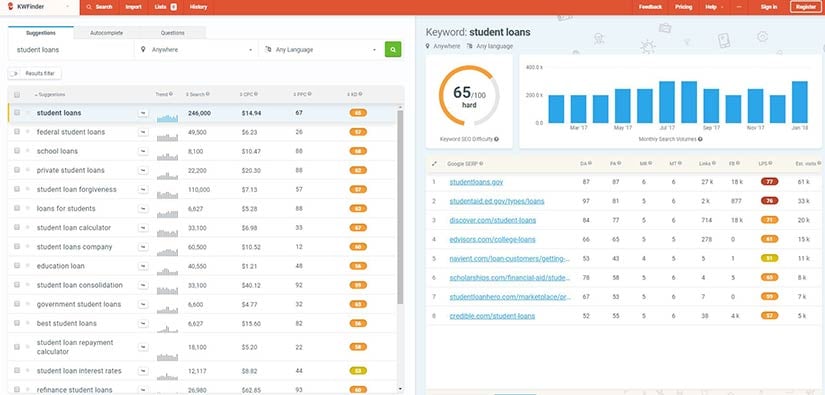 In addition to this, KWFinder will recommend related keywords that may be valuable for you to target, and provides search volume, CPC, PPC, and difficulty for each of the suggested terms, which you can easily add to a list and export for your needs.
Though you may be able to make do with the free version of the tool, if you perform a high volume of keyword research you would likely need to pay for a subscription. Subscriptions range from a low of $29.90/month to a high of $79.90/month.
Accuranker is a keyword tracking service that allows you to build keyword lists for your website. You can manually add keywords, or you can import keywords that your website is already ranking for directly from Google Analytics or Google Search Console (you can manually remove keywords from this import if you decide you do not want to include them).
When you run the report, you will see how your website is ranking for each of the keywords being tracked; if within the top 100 search results, the specific URL of the ranking page will display. You will also see the average monthly search volume for the term on Google and the potential of the keywords, which you can use to establish priority.
In addition to tracking your keywords, you can also add competing URLs and track those alongside your website to see how you are performing against each other for the same keywords, which is extremely helpful for competitive analysis.
Pricing options range from a low of $44.95/month to a high of $149.95/month for business plans, and higher for agencies and enterprise operations. That being said, you can sign up for a 14-day free trial if you'd like to give it a whirl before committing to a full subscription.
The Bottom Line
When deciding which tool you choose to use to replace the HubSpot keyword tool, it's important to take a number of factors into consideration. What metrics do you need to effectively run your marketing campaigns? Does the keyword research tool you are considering supply those metrics? Does it allow you to track the volume of keywords you need to track, and at a reasonable price? And, perhaps most importantly, does the tool fit within your department's budget?
Once you have the answer to these questions, the decision of which tool to use should be much easier.