Written By
Ryan Sylvestre
Hosting a podcast for your business is a great way to grow leads and expand your reach. But when it comes to selecting the proper setup, what equipment should you choose?
We review this question in the following article by:
Sharing the programs and tools used for our podcast studio

Listing our recommendations for affordable equipment

Highlighting the best program to use when recording audio and video at the same time
If you're interested in podcasting for your business, then you've probably noticed that there are so many instructional videos, guides, and tutorials out there showing people how to start a podcast with high-quality audio and video. But as someone who has set up a number of podcasts in the past, I found that there was never an answer to the question "What podcast equipment do I need to record audio and video at the same time?"
Now that I've gone through the process myself, experimented with different equipment, and been forced to solve recording problems as I've encountered them, I can finally say that I can answer this question.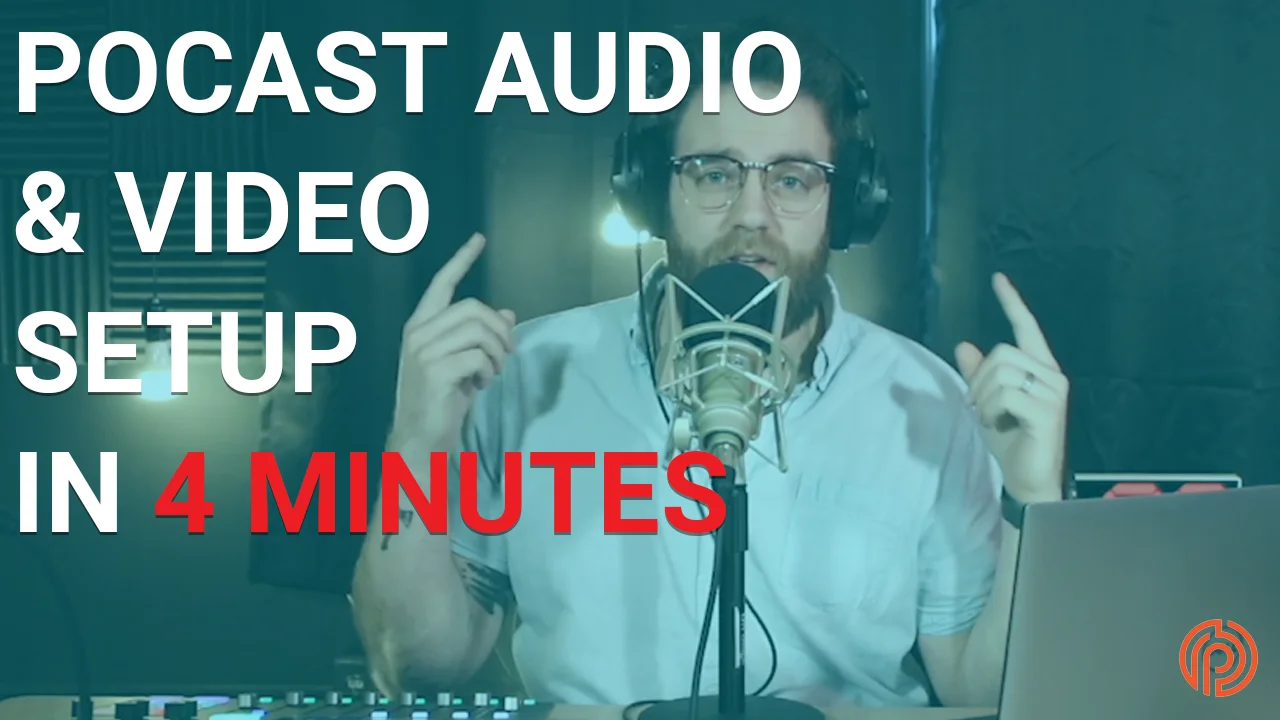 This guide is going to walk you through the best and most affordable setup to record a professional podcast. This might not be the cheapest route, but when everyone has their own podcast and you're looking for a way to stand out, quality is necessary. Here, I'll walk you through everything we have in our podcast studio that helps us produce video and audio podcasts with multiple people and guests.
Our Podcasting Equipment
In Pepperland Studios, we have tested a variety of equipment over the years, from USB microphones, different audio interfaces, and editing software. What we use on a daily basis was picked from what we found worked the best and produced the best quality audio and video.
Below is the equipment that we use, broken down into categories: Podcasting microphones, audio recording equipment, video podcast equipment, and equipment that allow us to record audio and video at the same time.
1. Podcasting Microphone
Obviously, the microphone is the most important aspect of any podcast. You're going to want to get a microphone with an XLR cord. This is pretty standard for podcasting and is compatible with most audio interfaces.
In our studio, we have four Heil PR 40 Dynamic Mics. With each of these, we also have a PSRM shock mount, HB-1 boom arm stand, windscreen or pop filter, and table mic stands. We found using the table mic stands make it a little easier for reading stuff on our laptops and positioning the mic but some people prefer the boom stand.
While this microphone set-up might not be the cheapest option, you will never have to mess around to get the perfect sound. We've never had any issues with sound quality with these products.
The problem with buying a cheap mic is that you will continue to get frustrated with how it sounds. We used a few cheaper mics when we were first starting to see if we could get by. The biggest problem was they never communicated well with our audio interface and had constant interference. This made post-production very difficult and tedious.
Having a pro-level mic will change your podcasting game. If you buy a cheaper one, chances are you're going to have to invest in an upgrade at some point anyway.
Audio Technology List:
Heil PR 40 Dynamic Mics
PSRM shock mount
HB-1 boom arm stand
Windscreen or pop filter
Table mic stands
2. Podcast Audio Recording
Now that you have a quality mic, it's time to get a quality recording interface. In the past, I would plug all of our mics directly into a Focusrite Scarlette 18i8 and then have this plugged into my computer. I would connect the Focusrite to my computer and have its input in Adobe Audition. I used this method for the longest time and have to say it worked well.
While this worked great for our audio-only podcast, we needed something a little more robust for our video and audio podcast. One of the biggest things I was looking for was more control over the audio levels, music, and guests dialing in for interviews via phone.
We are now plugging our mics into the Rodecaster Pro. I have to say, this has made my life easier when recording and editing our podcast episodes. The Rode Caster Pro has everything I wanted in an audio interface. You can preload all of your shows intro and outro music, sound effects, and connect your phone via Bluetooth. This makes dialing in guests as easy as placing a regular phone call.
One of the best things about the Rode Caster is that I replaced two pieces of equipment with just one audio interface. I no longer had to hook up my Focusrite into Adobe Audition because the Rodecaster has "Class A Servo-biased Preamps". In plain English, this means that it provides high-quality audio by minimizing background noise, distortion, with a cleaner gain structure. While you should just take my word for it, if you're not convinced, I'm sure they do a much better job explaining it than I would.
With all of this control, you need a way to monitor the sound quality while it's happening in real-time. The Rodecaster has four headphone jacks so you can listen and adjust anyone's mic settings on the fly.
That's why we bought four DT 770 Pro headphones. These headphones block out external noise so you have a crystal clear sound of each person speaking into their mic. While other headphones will work just fine, you should at least try a set of noise-canceling headphones so you can see the difference.
Audio Technology List:
Rodecaster Pro
DT 770 Pro Headphones
3. Video Podcast equipment
Now that you have all of your audio elements set up, it's time to introduce the video element. This is a pretty simple set up. We have three Canon EOS 80D cameras. Each camera is equipped with a AJA U-TAP HDMI adapter. This turns your camera's HDMI input into a USB input. This USB input is then used to capture the video portion of our podcast.
Camera Technology List:
Canon EOS 80D Cameras
AJA U-TAP HDMI Adapter
4. Recording Audio & Video at the same time
The Rode Caster will connect to your laptop via a USB C cable. This will connect all your mics and headphones with just one cable. Depending on how many video cameras you have to capture different shots, you will connect each one with their U-TAP USB cable. If you run out of USB ports on your laptop you can always get a USB hub.
The key to recording audio and video at the same time is OBS Studio. OBS Studio is by far the best tool for bringing all of this together but it can be a challenging interface to get comfortable with. We have created a video showing you have to set up OBS with this exact equipment, please see below.
Overwhelmed? We can help with that
Starting a podcast studio can be stressful, there are so many options for equipment. What if I can't get this stuff to work? Why won't my audio come through? Why won't my computer see my video inputs? Here at Pepperland, we have asked ourselves all of these questions. After investing in a bunch of gear, dedicated time to figuring everything out, and troubleshooting, we have everything figured out.
If technical set-up gets to be too much, you can always come to our full set up studio where all you'll have to do is sit down and record your episode. We can also help you plan out a podcast campaign and promotion strategy so you can grow your audience.