Making a Business Instagram account, or switching your current Instagram account from Personal to Business, is a great way to track engagements and boost your social media presence.
A Little Background on Instagram
Instagram was launched in 2010 and acquired by Facebook for a record $1 billion in 2012. Since then, it has become one of the most influential social media apps in the market. With over 1 billion people using the app monthly, Instagram is worth adding to your social media marketing strategy—especially if you know your target customer uses the app.
---
Download our Social Media Checklist for more great tips!


---
Why is creating an Instagram account important for your business?
Understanding how Instagram works can take your brand to the next level.
Let's face it, 2020 was a crazy year. Like most digital platforms in 2020, Instagram saw a dramatic increase in usage. Taking a look at a few of these Instagram statistics can help your brand or company narrow down your targeted audience:
With Instagram being the fourth most active social media platform (behind Facebook, YouTube, and What's App), it's crucial for your business to understand whether or not your customers are using the app and, if they are, to start leveraging it in your marketing efforts.
Opening a business account on Instagram unlocks so many tools that can help you grow your business. These include:
The ability to see analytics that help you understand your audience's behavior
The ability to add product tags to your posts to increase sales
The ability to

run ads

that directly convert into sales
Steps for Creating an Instagram Business Account
Creating an Instagram Business account is relatively simple. The best way to create an account is to use your mobile device. Below, we walk through the steps needed to make an Instagram Business account.
Note: If you already have a personal Instagram account and would like to switch it to a business account, jump ahead to Step Three.
Step 1
Download the Instagram app onto your mobile device. The app is free and takes just a few minutes to download. When the login screen appears, click Sign Up down at the bottom.
Step 2
Create a username and password.
For this example, we created a sample account called brandexample2021.
Step 3
Now you can see the profile page. Click Edit Profile. At the bottom of the page, you'll see an option that says Switch to Professional Account. Tap that option.

Step 4
A four slide screen will appear. With a Free Professional Account, your business can get access to insights about your followers, account performance, new contact options and more. Click Continue.
Step 5
You'll be prompted to select a category. Categories can range from Clothing, Artist, Band, Actor, Blogger, Graphic Designer, etc. You can search for a category that best fits your business. You can choose to have the category be displayed on your profile or not. We recommend that you do so that accounts can fully understand what your brand and business is about. Click Done when you're all set.
Step 6
The next screen will ask if your account wants to be strictly a business account or a creator account. A business account is specifically retailers, local businesses, brands and other services and providers. A creator account is for public figures, content producers, influencers and artists. Tap Business and hit Next.
Step 7
You're all set! Now you can begin adding a bio about your brand, a profile image and website link. You can do all of these things by clicking on the Edit Profile button. Once you start posting content, you'll see an option that pops on your profile page saying Insights. Below are examples of what clicking on the Insight button shows you:
It'll show you accounts reach, content interactions, and total followers.
You can see different metrics on your posts throughout the years such as likes, follows, comments, impressions, profile visits, etc.
Instagram also has a Professional Dashboard listed at the top of your profile page. It helps track your performance as well as offering tips and tricks.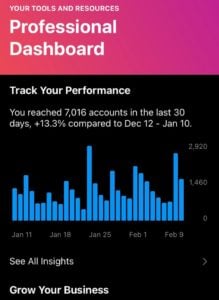 For more information on how to boost your Instagram, consider reading these following articles:
The Bottom Line
There you have it! In 7 easy steps you can create an Instagram Business account for your brand. Following these tips and tricks will help boost your engagements, as well as reach.
Does your social strategy need a boost? Partnering with marketing specialists can help! At Pepperland, we specialize in inbound and content marketing and can help your business grow exponentially through our expertise and resources. Contact us today to find out how we can help achieve your goals.