Written By
Ryan Sylvestre
Does your podcast have music or sound effects? It can have a profound impact on your audience. In fact, nearly 16% of listeners won't consumer a podcast if it doesn't have music or sound effects in each episode.
So, given that music and sound effects help increase listener engagement, the importance of adding it to your recordings cannot be stressed enough. But where do you go to obtain royalty-free music and sound effects?
We provide some platforms to consider for your podcast in the following article.
You're likely reading this article because you are starting a podcast and looking for some awesome intro and outro music, and maybe some cool sound effects to use in each episode. Or, perhaps you need to update your podcast with music, so that listeners can better identify your show.
Either way, adding music to your podcast is a great way to boost the quality of your recording overall. We've previously mentioned how to quickly and efficiently set up a podcast before, but when it comes to adding music: Where do you start?
16 Premium Royalty-Free Music Platforms for Podcasts in 2020
Overlooking intro and outro music is an easy mistake to make when planning a podcast, however, adding quality audio is easier than you might think.
---
Want to start your own podcast? Not sure where to start? We can help.

---
Check out these platforms to find the perfect playlist for your show.
1. Audioblocks
Audioblocks has a large library of music that can be used freely in your podcast show or episodes. They make it easy to find exactly what you're looking for by letting people browse by genre, mood, instruments, and top categories.
With their subscription, you can ensure the music you pick is royalty-free and cleared by Youtube. They offer three pricing levels that cater to people who may only have a few downloads a month all the way to the person constantly switching up the mood of their podcasts and videos.
2. Audionauti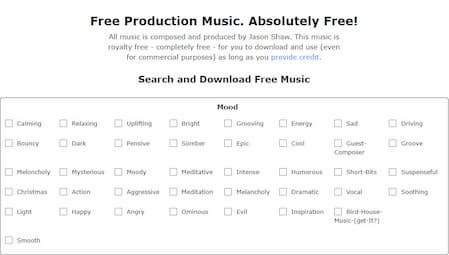 Audionauti has free music, with no monthly subscription as long as you credit the producer. This means that if you were to take some music off of this website you would have to say where it came from. Not bad for having free music.
This website also provides a very granular way of searching for a mood or type of instrument. This is perfect for someone looking for a specific sound or feeling.
3. AudioJungle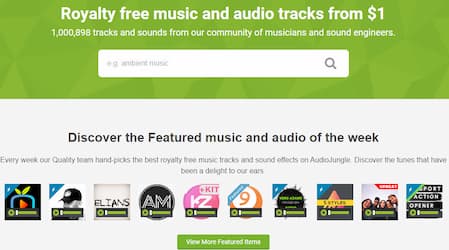 AudioJungle has a variety of tracks for a range of prices. You can even get songs for as low as $1. What a steal. Unlike other sites, once you pay for the music, you won't have to credit the author or website. If you're looking to clean up your podcast description, this can be a win for you.
In addition to music, they also offer a variety of sound effects. These can help break up segments in your show or just use funny noises.
4. CC Mixter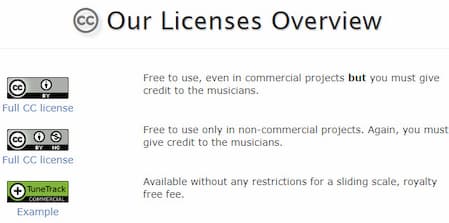 CC Mixer offers quality music tracks to include in videos, games, and podcasts. Each track is licensed differently so you might want to check out their licensing overview to make sure you understand how each track can be used and when you have to credit the author.
5. DanoSongs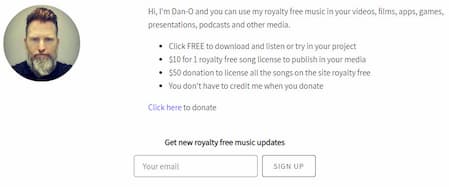 DanoSongs is a music library produced by, you guessed it, a guy named Dan-O. He has made up a bunch of different mixes in a variety of genres. If you want to try out one of his songs, you can download it for free. If you decide to use it in your project, he asks you to donate $10, if you wanted to use all the songs on his website royalty-free, you could give a one-time donation of $50.
You can also provide your email to get updates when he publishes new music to his site.
6. Free Music Archive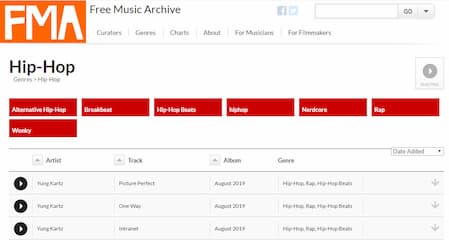 Free Music Archive allows you to search by the curator, genre, and top charts. Looking for something upbeat? Check out their electronic or hip-hop section. They have 16 different genre categories filled with different artists and styles for you to choose from.
If you ever have any questions about music licensing, they offer a comprehensive guide and breakdown of usage and permissions.
7. Free Sound

Free Sound is more of a forum-style website that aggregates interesting sound bites while also providing a searchable library of music. Once you create an account you can search, comment, download, and collaborate with other members. You can find new music by checking out their recent additions, 'most downloaded' or get a random sound!
8. Incompetech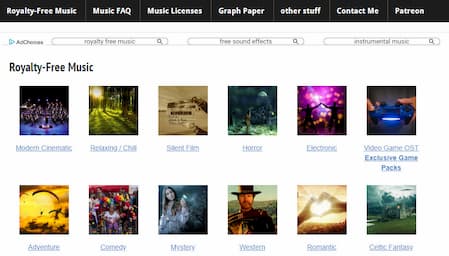 Incompetech, much like others on this list, breaks down their royalty-free music by genre, topics, artists, and top charts. You have the choice of making an account with them but you can always use their music for free as long as you credit the author.
With 34 different categories, I'm sure you will find some music that blends perfectly with your podcast.
9. Musopen

Musopen not only provides royalty-free music, but it also provides access to music education by providing sheet music, apps, and education material. Their huge library of music is a collection of composers, instruments, and time periods.
One helpful thing they do for their music is provide a filter by license type. This helps you find the type of license you want for your music faster.
10. Music Vine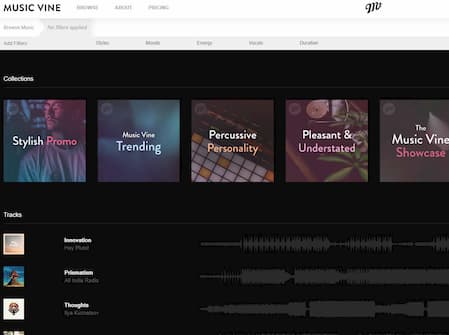 Music Vine has premium music with a premium experience. If you're looking for a sleek, well-designed website to get music for your podcast, Music Vine is for you.
They offer two subscription levels, one for the small business, and one for larger companies looking to use their music in marketing and other content.
11. NeoSounds
NeoSounds in another premium style website that helps people like you and me find awesome music for podcasts and videos. My first impression of this website is that it's well organized and priced accordingly.
12. Premium Beat

Premium Beat lives up to the name with their quality and prices. While there are a range of prices, this is the first website that I found that had pricier tracks. While they might be priced a little higher, they are all high quality.
Additionally, I will say this website has the largest variety of 'Moods' to search from. If you are trying to capture or convey a mood on your podcast, you'll want to pay this website a visit.
13. Purple Planet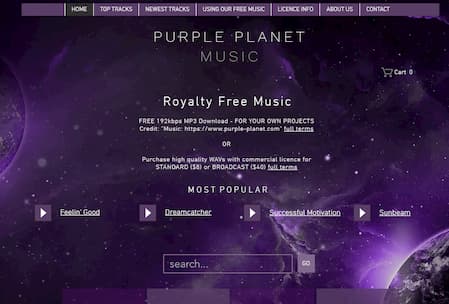 Purple Planet is by far the most interesting interface for finding some royalty-free music. It stands up to the name 'Planet' and demands that you search by a mood or type of feeling.
While the experience is cool looking, the music is also out of this world (corny, I know.) After testing out a few audio tracks, I have to say this website has many high-quality songs.
14. Shutterstock Music

The Shutterstock Music library is a well-organized music superstore. You can take advantage of these tracks by joining their subscription plan for $16 a month.
15. Sound Stripe

Sound Stripe mimics Shutterstock in sleek design and quality of music. One of the biggest differentiators of this website is how granular you can get with your filtering. If you have a specific idea, sound, or mood you're trying to emulate you will be able to find it with their search functions.
There are two subscription options, if you opt for the more expensive one, you will also get access to their library of over 35,000 sound effects.
16. YouTube Audio Library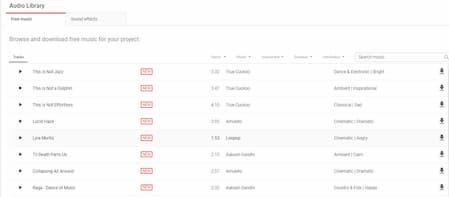 Youtube's Audio Library is what we at Pepperland use for our podcast music. This audio library gives you free access to music and sound effects.
YouTube will give you a notice when you click on each audio file whether or not you need to credit the author when you use this in podcast episodes and videos. The good thing about YouTube's Audio Library is that because it's offered by Youtube, these files are already cleared for use on their platform.
Two Royalty-Free Sound Effect Platforms For Podcast in 2020
If you're looking for sound effect instead of, or in addition to your music choice, you've a lot of options on that front as well. Some of our favorites include:
The music sounds great! Now what?
Having music for your podcast is crucial, but what about podcast artwork, hosting, content planning, and production? If you're producing a podcast to help build your business, you want to ensure your efforts are being put to good use. Don't go in this alone.
Pepperland Marketing can help you plan, produce, and promote your podcast. Your business is unique and the first step in our process is always to understand how your business connects with your audience and what your short and long term business goals are. Our podcasting services can help you drive